Hop Variety
Galena
Origin
US
Alpha Acid %
11 – 14%
Beta Acid %
7 – 9%
Composition
Total Oil: 1.05 mL/100g
Co-Humulone: 32 – 42%
Myrcene: 55 – 60%
Humulene: 10 – 15%
Farnesene: 0 – 1%
Caryophyllene: 3%-5%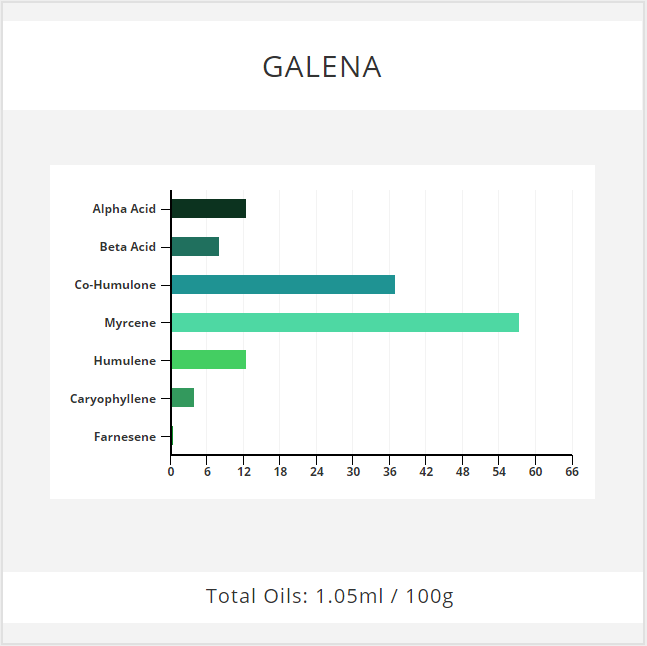 Background
A high alpha acid bittering hop, Galena was released commercially in 1978 and is a descendant of Brewers Gold.
Brewing Attributes
Galena is primarily a bittering hop that imparts a crisp and pleasant bitterness and because of the high alpha acid content is fairly economical in this usage. It can also be used as a late kettle addition but it is more moderate and subtle than other comparable US hops. The aroma is floral and there is an element of blackcurrant and soft fruits as well as subtle citrus, as mentioned previously though they are moderate in comparison to a hop such as cascade for instance.
Beer Styles
The good bittering potential of Galena made it a go to early hop addition in many early craft brewed pale ales in the US. Galena has potential in many beers however and goes equally well in both dark or light coloured ales.
Possible Substitutions
Galena is a descendant of Brewers Gold but has a higher alpha acid content. My personal substitution for Galena is Columbus and I have brewed beers with the two interchangeably as a bittering hop and cannot tell the difference. Nugget is another good substitution and has similar floral notes.
https://homebrewanswers.com/shop/wp-content/uploads/2016/09/home-brew-answers.png
0
0
Neil
https://homebrewanswers.com/shop/wp-content/uploads/2016/09/home-brew-answers.png
Neil
2016-08-11 15:07:59
2016-08-11 15:07:59
Galena