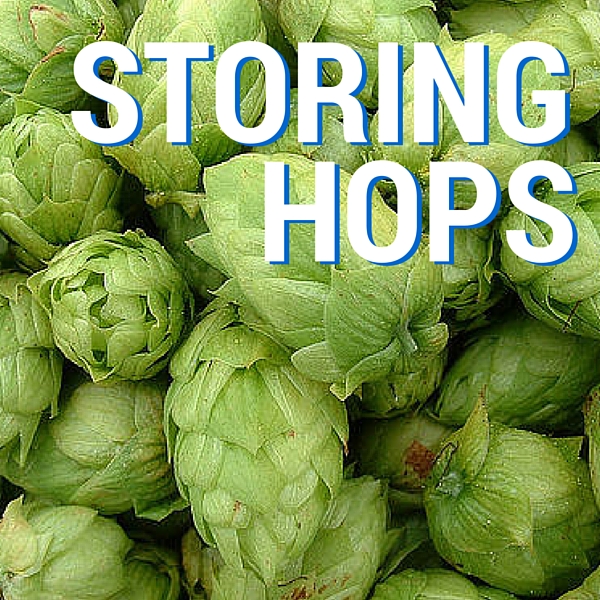 What's the best way of storing hops? It's always the way that after picking up the ingredients for your next batch that you end up with a load extra malt or hops that has to sit around for a while until you brew another batch that calls for them. I have wrote before about storing malt but what about storing hops, usually I purchase hops in 100 gram vacuum packs and it's not often that I use 100 grams of any hop in a batch. So In this artocle I want to share with you some of the options for storing these excess hops.
The Thing About Storing Hops…
Although malt can become stale over the time it tends to be a lot more stable than hops when it comes to short term storage. Hops on the other hand a pretty unstable and especially after being exposed to the air they begin to deteriorate in terms of the aromatic oils that flavour the beer and also the alpha acids that provide bitterness.
Take a look at this excerpt from a Brewing Techniques article on the deterioration of hops:
Hops start to lose their a-acids and oils as soon as they are harvested. The rate of loss depends on the storage temperature, the amount of air present, and the hop variety. The lower the temperature, the less the hops deteriorate. It has been shown that the rate of loss halves for every 15 degrees C (27 degrees F) drop in temperature (2).

Oxygen is definitely bad for a-acids; their oxidation components are responsible for the "cheesy" aroma detected in old hops (1). Oxidized a-acids lose their bitterness and cannot be isomerized. Because b-acids form bitter compounds when they are oxidized, some believe that this result of oxidation makes up for the loss of b-acids.
So from this we can assume that the best way to store hops is as cold as possible which would be in the freezer. So as soon as you get your hops home the best thing to do is leave them sealed in the packaging (which we'll talk about in a second) and chuck them in the freezer until your ready to use them.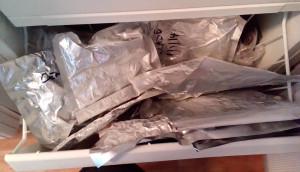 What About Left Over Hops
The best way to store the remaining hops after a batch of beer is still in the freezer but we want to seal them from any air if possible. The best way to do this in an ideal world is with a vacuum sealer. This is probably how you bought them from the home brew store, if you are buying hops that aren't sealed or vacuum packed then consider how fresh they are. You may already have a food vacuum sealer at home and this is ideal, if not they can be pretty cheap to pick up.
If you don't have a vacuum sealer or something like a heat sealer then an airtight container is probably the next best thing. Anything that will stop air getting to the hops in the freezer.
How Long Will They Keep
So you've got your hops in the freezer but how long will they last? Well if they are unopened and in sealed vacuum bags from the home brew store then for a couple of years without too much deterioration.
If they are open then you can still use them but your recipe may need to be adjusted slightly, as mentioned before the hops lose alpha acids over time depending on the temperature they are stored at, thankfully there are ways to calculate the loss of acids over time using a simple calculator such as this one at Brewer's Lair. If you are storing hops in the best environment then they are going to last a lot longer than leaving them at room temperature.
Hop Storage Tips
To be honest, I don't like having to store hops at all, one reason being I have a very small freezer and the other being that I find it too much hassle having to work out adjustments and the like. It's for this reason that I like to use some of the following tips to minimize the need to store hops long term:
Buy as close to what you need as possible. This is obvious right. The reason I say this is I found a company that sells hops in intervals of 10 grams where as every other supplier sold 100 gram or 500 gram packs. Shop around and find the best option
Planning your brews around what you need to buy is something I also tend to do quite often. If i'm brewing with a common English hop I know there are plenty of beers I can brew that I can use them in so I brew the beer's to suit the ingredients I have.
Team up with a friend and trade hops. I send my excess hops to my Dad to make a beer with. If you have a friend that brews why not trade your ingredients with them so you don't end up with loads of left overs.
https://homebrewanswers.com/shop/wp-content/uploads/2016/09/home-brew-answers.png
0
0
Neil
https://homebrewanswers.com/shop/wp-content/uploads/2016/09/home-brew-answers.png
Neil
2015-06-22 19:19:54
2016-02-12 11:06:16
Storing Hops