Hop Variety
Topaz
Origin
Australia
Alpha Acid %
14 – 18%
Beta Acid %
6 – 8%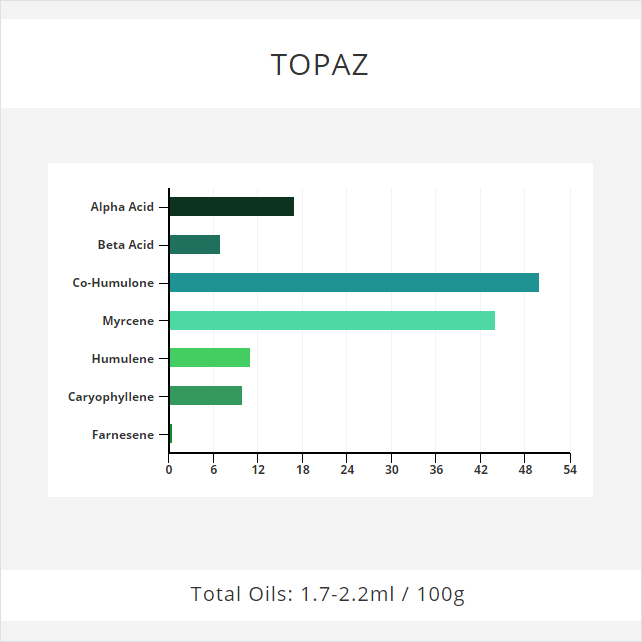 Background
Topaz is a hop bred in 1985, Victoria, Australia at the Rostrevor Breeding Garden by Hop Products Australia. Topaz is a high alpha seedless cultivar created to have a unique flavour and aroma. Originally it was used solely for the production of hop extract.
Recently however in the late 2000's it has found favour among brewers for it's unique aroma properties and bittering potential.
At the trading fair Brau 2010 and 2012 Topaz was used in a single hop beer at a rate of 200g/hl and 250g/hl to showcase it aroma potential. It was selected as one of the preferred beers in both instances.
Brewing Attributes
As a super high alpha acid variety it's use as a bittering hop would be efficient but it is best used as an aroma and late addition hop. It's use as dry hop is also excellent and adds further layers of flavour to a beer.
The aroma as a late hop is that of peach, blackcurrant and tropical fruits like lychees. As a dry hop it adds a green fruit like character. Comparisons have been made to gooseberries and grapes as well as black currant and clove like aroma.
Topaz works well when used with citrus hops such as Citra, Cascade, Columbus and the like as well as its Australian sister Galaxy
Possible Substitutions
For the substitutions to Topaz you will need to look for big aromatic late hops. The aroma is unique so it will be hard to replicate its aroma but using hops like Galaxy, Riwaka, Cascade,, Rakau, Amarillo and similar varieties will work well as a replacement.
Commercial Examples
Samuel Adams used it, along with Galaxy in its Tasman Red IPA
https://homebrewanswers.com/shop/wp-content/uploads/2016/09/home-brew-answers.png
0
0
Neil
https://homebrewanswers.com/shop/wp-content/uploads/2016/09/home-brew-answers.png
Neil
2015-12-07 20:03:44
2015-12-07 20:03:44
Topaz