It's December already. Every year around I have gotten into the habit of brewing a spiced beer for Christmas. My wife now insists that this happen and it's turned into something of a family tradition.
Usually I would spice a whole batch of beer adding spices and flavourings at the end of the boil. This year however I have decided to split a batch. Spicing one half of the beer and keeping the other half just as it is.
This year I decided to brew a sweet and nutty brown ale.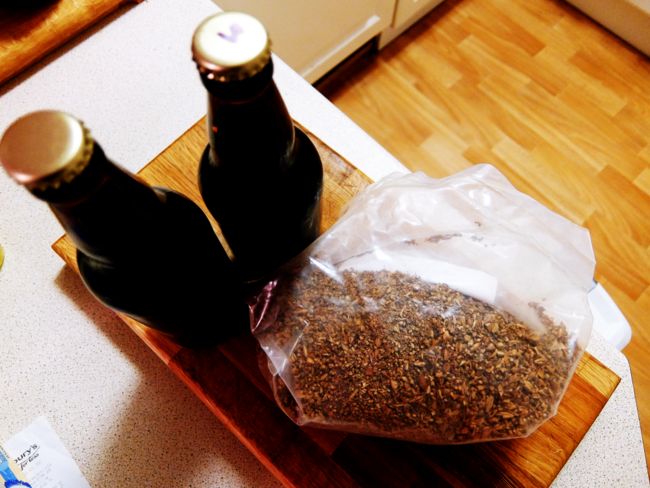 Brown Ale and Spiced Brown Ale
When designing beers and developing recipes you can look at recommended guidelines for beer styles. If you look at brown ales there are a couple. There is Southern English Brown Ale, Northern English Brown Ale, American Brown Ale and even Mild may fall into this category.
These style guidelines can be really useful when looking to develop your beer recipes. I kind of just amalgamated a couple of these together and completely omitted some of the suggestions like Crystal malt.
I know what I want from this beer before looking at the guidelines. I know I want it to be fairly sweet with plenty of body. It's going to be a winter warmer style beer and half of it's going to be spiced. I don't want a thin dry beer that isn't going to carry those spice flavours. Thin and spiced can come across as quite astringent in my opinion.
Low ABV, Lots Of Flavour
The ABV of the beer is going to be low at 4%. I have been brewing lots of lower ABV beers at the moment and am getting the hang of making more complex session beers. It's a more tricky proposition brewing something with a low ABV and I like the challenge.
Keeping the alcohol content low and the sweetness/body high is going to need a higher mash temperature. This beer I mashed at 71°C which at first may sound really high but it works well in these kinds of malt driven beers and especially with added spices.
Splitting the Batch
As I mentioned this batch is going to be split into 2 separate beers. The brewing and fermentation takes place together and the spices are going to be added during bottling.
This method of adding extra flavourings is one of the best ways I can think of to experiment with herbs, and spices without committing to a whole batch. It allows experimentation but avoids the issue of possibly overwhelming a beer with spices.
The method involves steeping your spices in alcohol, in my case this was vodka. The spices are allowed to infuse in the alcohol for a few days and the resulting infusion can then be added to the beer.
I chose to use cinnamon and cloves in this Brown Ale. These two spices I feel are particularly Christmassy. I would recommend subtlety with these added spices. I want the majority of the flavour to be the beer itself, the spices are an added layer of flavour, not the star of the show.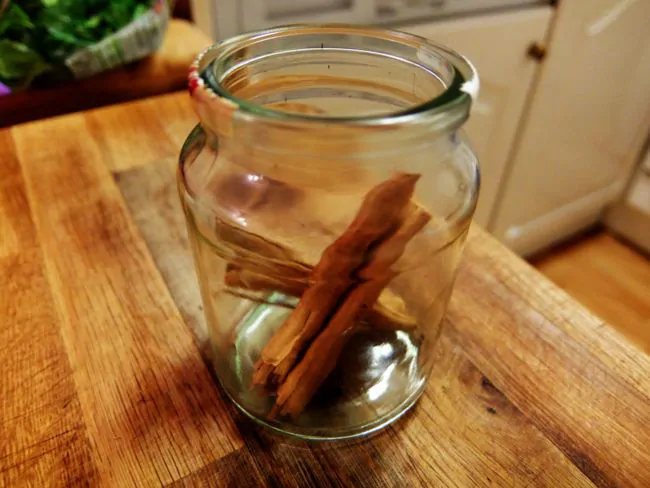 My spice infusion for this 10 litre batch is:
2 Cinnamon Sticks
2 Cloves
Vodka to cover
That's it! You let this infusion sit for a few days and the vodka goes a deep brown taking on all the aromatics.
Adding The Spices
When it comes time to bottle I fill the first 18-20 bottles with the regular brown ale then dose the remainder of the batch with the vodka infusion.
To work out how much of the infusion you need to add:
I take a 250ml sample of the beer as I'm racking it into the bottling bucket.
Using a pipette add a few drops of the spice infusion, mix and sample
Keep adding drops until you reach a level of spice in the beer you find appropriate.
Next extrapolate the amount of drops in 250ml to the amount of beer you want to flavour. 1 drop = 0.05ml. Add the amount of spice infusion to the bottling bucket.
This Brown Ale was split into 2 equal sized batches. 10 litres being the straight unspiced beer and the other 10 litres being spiced.
I added 40 drops per 250ml of beer so extrapolated this up to 10 litres. This meant I needed to add 80ml of spice infusion (for the curious this will only affect the ABV of the beer by 0.003%).
The Recipe
When looking at the recipe take note that there is a small portion of roasted barley added late in the mash plus the high finishing gravity due to the high mash temperature.
Brown Ale & Spice Brown Ale
================================================================================
Batch Size: 19.490 L
Boil Size: 20.990 L
Boil Time: 60.000 min
Efficiency: 60%
OG: 1.047
FG: 1.018
ABV: 3.8%
Bitterness: 22.4 IBUs (Tinseth)
Color: 23 SRM (Morey)
Fermentables
================================================================================
Name  Type    Amount Mashed Late Yield Color
Pale Malt (2 Row) UK Grain  4.500 kg    Yes   No   78%   3 L
Chocolate Malt (UK) Grain  70.000 g    Yes   No   73% 508 L
Brown Malt (British Chocolate) Grain 180.000 g    Yes   No   70%  76 L
Black Barley (Roast Barley) Grain  30.000 g    Yes   No   55% 660 L
Black Barley (Roast Barley) Grain  70.000 g     No  Yes   55% 500 L
Total grain: 4.850 kg
Hops
================================================================================
Name Alpha   Amount  Use       Time Form  IBU
Apollo 12.0% 15.000 g Boil 60.000 min Leaf 22.4 
Willamette  5.0% 45.000 g Boil    0.000 s Leaf  0.0
Misc
================================================================================
Name  Type  Use   Amount    Time
Cinnamon Spice Boil 15.000 g 0.000 s
Cloves Spice Boil  2.000 g 0.000 s
Yeast
================================================================================
Name Type Form   Amount   Stage
Safale S-04  Ale  Dry 11.000 g Primary
Mash
================================================================================
Name     Type   Amount     Temp   Target       Time
Infusion 17.240 L 76.700 C 70.000 C    60.000 min
Final Batch Sparge Infusion  8.936 L 84.176 C 74.000 C 15.000 min

https://homebrewanswers.com/shop/wp-content/uploads/2016/09/home-brew-answers.png
0
0
Neil
https://homebrewanswers.com/shop/wp-content/uploads/2016/09/home-brew-answers.png
Neil
2015-12-04 09:27:06
2015-12-14 15:02:59
Brown Ale Recipe + Spiced Brown Ale