An English Mild may be one of those beers that are perfectly suited for home brewing. It's one of those beers that isn't readily available in most pubs, I wouldn't know where to begin finding a Mild on draught in Cornwall where I live. It is also one of those beers that don't do that well in bottles. It's not that you can't bottle it, it's just a beer style that demands to be drunk fresh, something that is very easy for the home brewer like me to accomplish.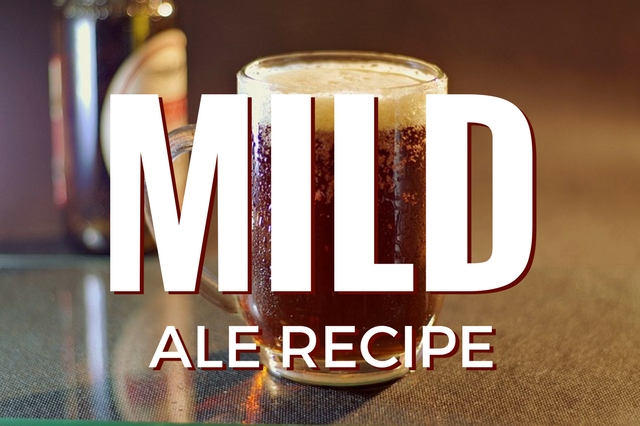 Modest Mild Ale
Mild Ale suffers as a beer style that is often overlooked. It's not that it is unpopular it just it doesn't make a bold statement like some other beer styles do. That is not to say Milds aren't perfect for what they intend to accomplish.
The brewer needs to try to balance a mild recipe to have a low ABV at the same time as having plenty of flavours contributed from dark and roasted malts, the problem with a lot of low alcohol beers is they can tend to verge on feeling watery.
What Does Mild Mean?
There are plenty of accounts of where the name "Mild" comes from, however, I'm no beer historian so take what you read here with a healthy dose of scepticism. The most common theory is that it is the name given to young beer. Historically older beer or beer that had been aged a while may have a hint of sourness, whereas fresh or young beer wouldn't hence the name Mild.
These mild beers would most likely have been brewed to be blended with other beers to balance out any overpowering qualities. Drinking Mild ale on its own would have naturally followed on from this.
Not Always Dark Beers?
Historically Mild Ales was the name given to any "young" beer so it wasn't necessarily a ruby or dark beer. There were also pale Milds. The modern version, however, is usually thought of as a low ABV, ruby coloured session beer.
Mild Is The Malt Driven Session Beer
Mild really is the ultimate session beer. When most people think of session beers today they think low ABV pale and often hoppy beers. Mild usually falls into the region of around 2.5 – 3.8% ABV and can finish sweet or dry. The flavour is pretty much solely driven by special and roast malts in the grist. The flavours to look to incorporate in your recipe are caramel, biscuit, stone fruits, nuttiness, chocolate and roasted notes.
As well as this you want to still retain a bit of body by mashing at slightly higher temperatures.
Hops are minimal in a Mild ale and primarily used to provide a balance with the malt, there is a time to be prudent and let the malt bill lead the show. Traditional English varieties of hop are the way to go and hop bitterness is low. Having a low abv means that a smaller bittering addition is all that is required to balance the beer, somewhere around 10 – 30 IBU is a good range.
English Mild Ale Recipe
Mild Ale - Mild Recipe
================================================================================
Batch Size: 19 L
Boil Size: 21.700 L
Boil Time: 60.000 min
Efficiency: 70%
OG: 1.033
FG: 1.008
ABV: 3.2%
Bitterness: 18.8 IBUs (Tinseth)
Color: 23 SRM (Morey)
Fermentables
================================================================================
Name  Type    Amount Mashed Late Yield Color
Pale Malt (2 Row) UK Grain  2.600 kg    Yes   No   78%   3 L
Chocolate Malt (UK) Grain 140.000 g    Yes   No   73% 450 L
Black (Patent) Malt Grain  60.000 g    Yes   No   55% 500 L
Caramel/Crystal Malt - 80L Grain 180.000 g    Yes   No   74% 122 L
Total grain: 2.980 kg
Hops
================================================================================
Name Alpha   Amount  Use       Time Form  IBU
Fuggles  4.5% 25.000 g Boil 60.000 min Leaf 14.4 
Fuggles  4.5% 10.000 g Boil 30.000 min Leaf  4.4
Yeast
================================================================================
Name Type Form   Amount   Stage
Safale S-04  Ale  Dry 11.000 g Primary
Mash
================================================================================
Name     Type   Amount     Temp   Target       Time
Infusion 10.000 L 73.088 C 67.500 C 60.000 min
Final Batch Sparge Infusion 15.000 L 78.540 C 74.000 C 15.000 min

https://homebrewanswers.com/wp-content/uploads/2017/06/MILD.jpg
426
640
Neil
https://homebrewanswers.com/shop/wp-content/uploads/2016/09/home-brew-answers.png
Neil
2017-06-01 14:18:06
2017-06-01 15:24:40
Mild Ale Recipe - Brewing The Perfect Dark Session Beer