Whatever the weather sometimes you need a warming drink to lift your mood. During the winter mulled cider is great but I think even a summer evening when the sun drops down and the air cools mulled cider lifts the spirit. This drink should be a staple in your household because of how easy it is to make and to drink.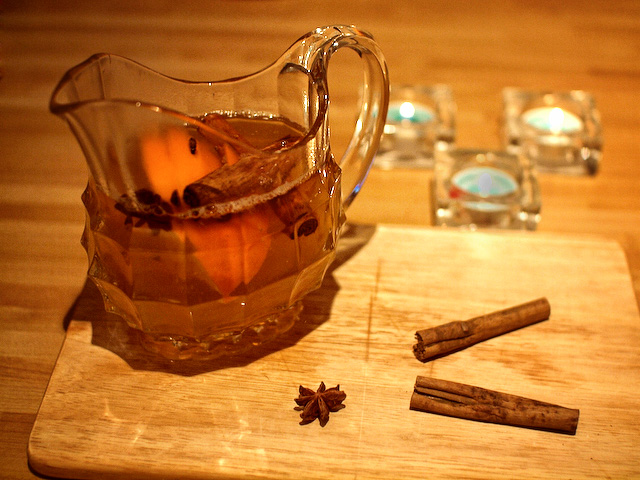 Sugar and Spice Make Mulled Cider Nice
The key to any good mulled drink is the spices that you use. Try and steer clear of prepackaged spice mixes if you can, part of the excitement is experimenting and tweaking your recipe to get your perfect spice combination beside if you buy a few different spices they can be used in any recipe you want whether it's a drink, dessert or main meal. Also I think it's best to use whole spices which are fresher than ground so you have more flavour and you can easily remove them rather than drinking a load of ground spice in the last few mouthfuls of the mulled cider.
Now for the sugar part, I think the only way to go is for a sugar with flavour to it i.e demerera, muscavado or honey. Plain white sugar, will of course, work but will not add as much depth as other unrefined sugars. Dark sugar will, of course. make the mulled cider darker in colour but will also add rum and caramel flavours. In my recipe, I have added honey which I think is a perfect compliment to the cider.
Also depending on what cider you have there will already be a certain amount of sweetness there, a dry cider has the least then medium or a sweet cider. The sweeter the cider the less sugar you want to add otherwise you'll end up with something tooth-achingly sweet. What cider you buy is up to you, by all means, go for your favourite.
My Mulled Cider Recipe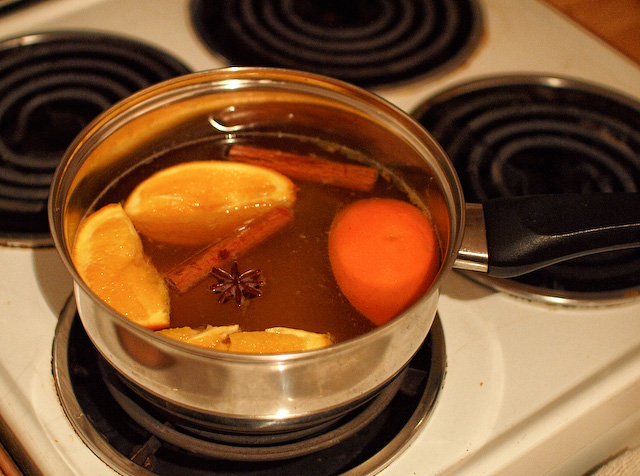 Ingredients:
750ml Dry Vintage Cider
2 or 3 Cinnamon Sticks
1 Star Anise
6-8 Cloves
1 Orange
4 Tablespoons of Honey
Pour the Cider in a pan and put on a medium heat, we don't want to boil it so slow and steady is the name of the game.

Cut the orange into quarters and pierce the skin with the cloves, this make it easier to get rid of them later.

Add the clove studded orange quarters, star anise and cinnamon sticks to the cider and allow to infuse whilst the cider is heating.

You can leave the cider on the heat for as long as you want as long as you want, you don't want to boil off the alcohol though so keep the pan down on a low heat. I had mine infusing for about 20 minutes with the spices, the longer you leave it the more time the spices will infuse.

When your ready to serve add the honey. Adding it closer to the end will retain more of the honey flavour so it doesn't get driven off by the heat. Adjust the sweetness to your taste don't add it all if you think it's sweet enough.

Ladle into mugs or heat proof glasses or a jug and drink!
Experiment To Your Hearts Content
Make your own perfect mulled cider by adjusting the spices, sugar and cider to your liking. Remember you don't want to overpower the cider but balance the spices with it so be prudent and trial as you go. There is no definitive recipe and half the fun is trying out new things.
https://homebrewanswers.com/wp-content/uploads/2016/07/Mulled-Cider.jpg
480
640
Neil
https://homebrewanswers.com/shop/wp-content/uploads/2016/09/home-brew-answers.png
Neil
2016-07-13 07:34:46
2016-10-30 12:13:27
How To Make Mulled Cider, A Year Round Recipe