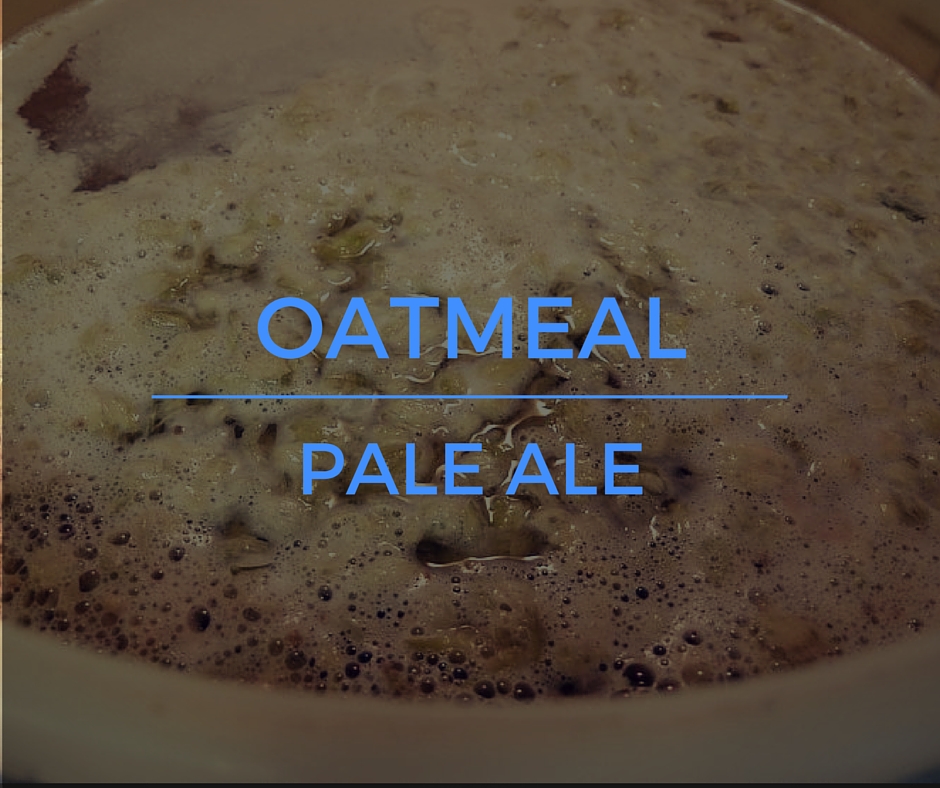 Oatmeal stouts appear to be becoming increasingly popular. There are plenty of options available commercially and there are hundreds of home brew recipes to sift through.
When you think about oatmeal, you think porridge. The association with warming breakfast and the thick, creamy consistency (something I talked about here) it's easy to see how it goes well in rich dark beers.
Is that all oatmeal is good for though, maybe you may want to incorporate the thick, creamy and oily texture in a pale beer with a brighter more hoppy palate. Big bold hop flavours can become overwhelming after more than a pint and a balancing role with the grain needs to be considered.
I have been slowly emptying the freezer of hops and this beer uses the last of a couple of packs of Centennial and Cascade. With flavourful aroma hops like these in a hoppy pale ale what will oatmeal bring to the recipe?
My intention for the grain in this recipe is to produce a beer that has the nice juicy hop flavours that we love about IPA's and set these against a soft, velvety, malt base. The oatmeal should ideally give the mouthfeel and texture that I'm looking for.
Oatmeal is slightly higher in fat content, meaning it may have negative effects on the head retention of a beer like this. Whereas Stouts and Porters are almost always quick to produce a thick fluffy head, pale beers may not.
To work counter to the fats brought along with the oatmeal I will add a fair portion of malted wheat. Again the wheat will add to the mouthfeel and is also good for generating a nice stable foam.
Does Oatmeal Need To Be Mashed
Unfortunately it is not easy for an extract brewer to incorporate oats in a beer. Oatmeal contains starches so need to be mashed. Even for the all grain brewer it's slightly confusing and may need additional processing.
If you want to use Oatmeal in a beer it can be confusing to work out if they will add any fermentables or not. It depends on what type they are and how they are produced so how do you know?
Oatmeal can be produced in a number of ways that range from, rolled, steel cut, quick cook and even malted.
Oats have no enzymes with which to convert starches to sugar and the starches they contain can be hard to break down. You may need to gelatinize the starches before mashing enabling the enzymes in the mash to break down these complex starches.
The way to do this is to cook the oats just as if you were making porridge, with water rather than milk of course. Boiling the oats gelatinizes the starch content unlocking it for mashing. Simply boil the oats for 10 minutes and add them to the rest of the grain when you've mashed in.
Some oats may be pre-gelatinized so won't need this additional processing and can be added straight to the mash.
Generally rolled oats have been heat treated so can be mashed straight away. Quick cook have been pre-gelatinized too.
Steel cut and old fashioned oat will need to be boiled before adding to the mash. If you are unsure which oats you have then it would be easier to just cook them before adding if you want to extract the fermentables.
Will The Oats Affect Clarity
When adding higher proportions of oats and wheat to a beer there is a good chance it won't be a crystal clear beer. Of course in an Oatmeal Stout clarity isn't an issue.
The good thing about homebrewing is you can produce whatever beer you like, the clarity won't affect the flavour so really it makes no difference.
Commercial breweries add finings to a beer to clear it. However are now more readily producing unfined beers that contain haze, us home brewers have been doing it all along. If you are adding something to the beer that doesn't enhance the taste ask yourself is it necessary?
Oatmeal Pale Ale Recipe
Oatmeal Pale Ale
================================================================================
Batch Size: 19 L
Boil Size: 22.000 L
Boil Time: 60.000 min
Efficiency: 70%
OG: 1.053
FG: 1.011
ABV: 5.5%
Bitterness: 21.4 IBUs (Tinseth)
Color: 6 SRM (Morey)
Fermentables
================================================================================
Name  Type    Amount Mashed Late Yield Color
Pale Malt (2 Row) UK Grain  4.000 kg    Yes   No   78%   3 L
Caramunich Malt Grain 200.000 g    Yes   No   72%  15 L
Oatmeal 300.000 g    Yes   No   80%   1 L
Wheat Malt, Ger Grain 450.000 g    Yes   No   84%   2 L
Total grain: 4.950 kg
Hops
================================================================================
Name Alpha   Amount  Use       Time Form  IBU
Centennial 10.5% 20.000 g Boil 60.000 min Leaf 21.4
Centennial 10.5% 30.000 g Boil    0.000 s Leaf  0.0
Cascade  6.0% 40.000 g Boil    0.000 s Leaf  0.0
Yeast
================================================================================
Name Type Form    Amount   Stage
Danstar - Nottingham  Ale  Dry 11.001 mL Primary
Mash
================================================================================
Name     Type   Amount     Temp   Target       Time
Infusion 15.090 L 71.000 C 65.000 C 60.000 min
Final Batch Sparge Infusion 12.368 L 84.267 C 74.000 C 15.000 min

https://homebrewanswers.com/shop/wp-content/uploads/2016/09/home-brew-answers.png
0
0
Neil
https://homebrewanswers.com/shop/wp-content/uploads/2016/09/home-brew-answers.png
Neil
2015-11-12 14:29:01
2015-12-14 10:10:48
Oatmeal Pale Ale Recipe