There are few beer styles that are as pleasurable to brew as a Saison and this Saison recipe is no exception. The style can encompass a whole range of flavours and characters but at its heart, a good Saison recipe relies on simple ingredients and allows the brewer to design a recipe with some room to experiment a little.
Saison as a beer style originated in Wallonia, Belgium and was brewed as a means to refresh and sustain farm workers over the warmer months of the year. This is why Saisons are often referred to as farmhouse ales. The brewing often took place in cooler weather and the beer stored ready for when workers would be toiling in the fields or harvesting crops. Seasonality like this is ingrained in the style of this beer, it's crisp light and thirst quenching which is ideal if you have spent all day working hard. The way it is brewed and conditioned also influences the beer.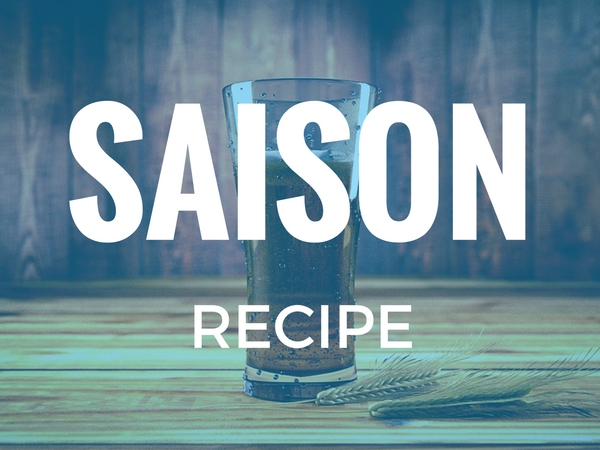 The Season For A Saison Recipe
Traditionally a Saison was brewed during cooler weather, usually no later than April or May, in preparation for the labourers who would work the farm. This means the beer is stored or conditioned for a period of time and then would have to last until the farming season ended. This storage would allow wild yeasts and bacteria to slowly develop in the beer meaning as the beer aged it would develop tart, funky and sour notes, especially if the beer is kept in wooden barrels.
Saison yeast strains developed because the brewers would reuse yeast after every brew, gradually transforming with every batch. This meant very unique and characterful yeast strains developed. Cultures available today all share these certain traits that developed and the yeast strain you use in a Saison recipe really is the driving force behind most of the flavour.
Saison Yeast
Saison yeasts typically produce spicy, slightly clove-like phenolics and sometimes slightly tart notes in a beer. These characters make Saison yeast the primary driver of character in the finished beer so choosing a yeast strain from your beer is particularly important.
There are both dry and liquid yeast strains available. There is far more choice available if you use liquid yeasts but more dry yeast strains are becoming available and will produce comparable beers and I like the flexibility of using dry yeasts. If you like to more nuance or particular traits of a yeast, liquid yeast will have more options. As an example you may want a yeast that flocculates differently or attenuates well and is slightly tart, a liquid yeast like WLP585 Belgian Saison III Yeast will do fit this description perfectly. There are both French and Belgian Saison strains available so check the yeast information here.
Spice and Flavour Additions
A common addition to many Saison recipes is spices and flavourings. Pepper, coriander and orange peel seem to be the most frequently used flavourings and it is easy to see why. Saison yeast typically produces these flavours and making additions like this only enhances them. I can imagine historically that this kind of flavouring would be added to even out a beer that may be past it's best at the end of the summer. If you want to add spices to your Saison check this guide for the best way to do it. For this Saison recipe, I'm only going to add a small pinch of pepper at the end of the boil, I'm going to let the yeast do the rest of the talking.
My Saison Recipe
The grist for my Saison recipe is going to be primarily Pilsner malt and a touch of Vienna malt to add a touch of maltiness. That's it, so it's super simple. Farmhouse beers would be made primarily with ingredients available on the farm or very close by so it makes sense the recipe would be a few simple ingredients.
The hops are just East Kent Goldings, these are a hop I love and fit perfectly both in terms of what would have originally been used by farmhouse brewers and to the style and flavour of the Saison.
I have used dry yeast for this beer as I already had one in the fridge. Lallemand Belle Saison is a good dry yeast that I have used a few times before. It produces exactly the right character and is really convenient.
Saison Recipe - Belgian Saison
================================================================================
Batch Size: 19.000 L
Boil Size: 22.000 L
Boil Time: 60.000 min
Efficiency: 70%
OG: 1.054
FG: 1.008
ABV: 6.0%
Bitterness: 27.3 IBUs (Tinseth)
Color: 4 SRM (Morey)
Fermentables
================================================================================
Name  Type    Amount Mashed Late Yield Color
Pilsner (2 Row) Bel Grain  4.500 kg    Yes   No   79%   2 L
Vienna Malt Grain 350.000 g    Yes   No   78%   4 L
Total grain: 4.850 kg
Hops
================================================================================
Name Alpha   Amount  Use       Time Form  IBU
Kent Goldings  5.5% 40.000 g Boil 60.000 min Leaf 23.1
Kent Goldings  5.5% 20.000 g Boil 10.000 min Leaf  4.2
Yeast
================================================================================
Name Type Form   Amount   Stage
Belle Saison  Ale  Dry 11.001 g Primary
Mash
================================================================================
Name     Type   Amount     Temp   Target       Time
Infusion 12.610 L 71.923 C 65.000 C 60.000 min
Final Batch Sparge Infusion 14.652 L 82.356 C 74.000 C 15.000 min

https://homebrewanswers.com/wp-content/uploads/2016/09/SAISON.jpg
450
600
Neil
https://homebrewanswers.com/shop/wp-content/uploads/2016/09/home-brew-answers.png
Neil
2016-09-22 15:23:48
2017-10-31 14:06:51
Saison Recipe - Belgian Farmhouse Ale