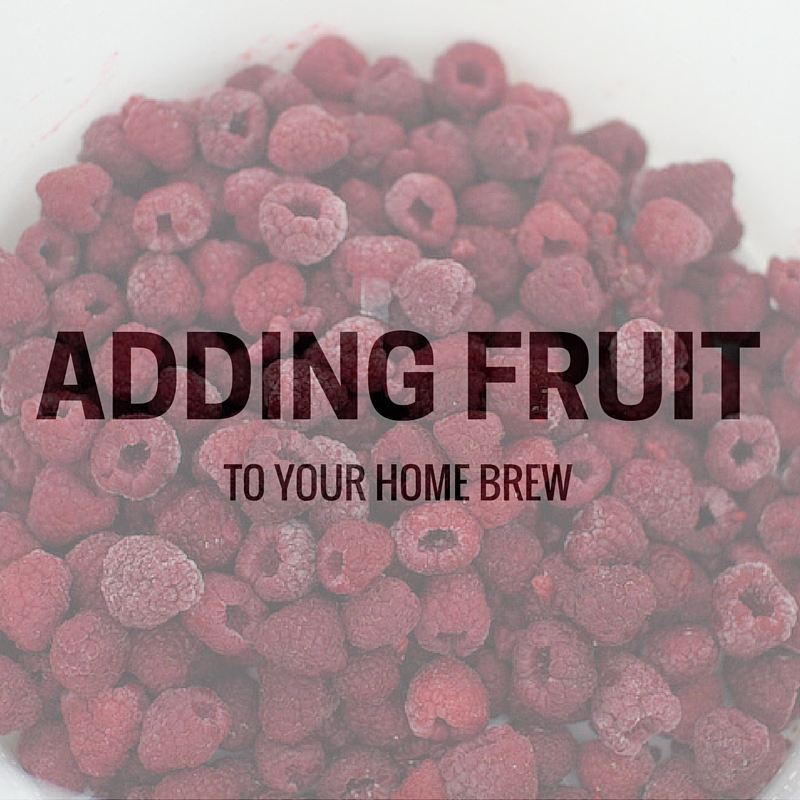 Adding fruit to a beer is a great way to add another dimension that just isn't possible with malt, hops and yeast. It can lead to all sorts of questions though. Will it contaminate the beer? How much do you need to add? What point in the process should it go in? and all sorts of other questions.
Luckily though with a little bit of planning and consideration it's not difficult at all. Adding fruit to a beer can really add interest and complexity and there are quite a few methods to use.
In this article we will take a look at some of the options of adding fruit to a beer without having to worry that it will make the beer worse. Everything that we do is looking to introduce better flavours not possibly spoil the beer.
Choosing Fruit To Add To Beer
First of all we need to consider what fruit is going to work best with the beer you are brewing. This could either mean that:
If you already have a base beer it's time to sit down and consider what fruit is going to enhance the beer.
You build a recipe around or choose a style of beer that works well with the fruit you want to use.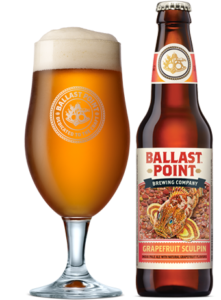 One of the easiest ways to solve both these problems is to look at what is being done already. Take a commercial breweries beer. Take note of what works for them and replicate it in your own recipes.
Belgian breweries are renowned for adding fruit to their sour beers for example. Cherries are a long favoured addition to krieks. Think about the sweetness balancing with the tartness.
Orange peel is synonymous with wheat beers and wits. Twists on this can be any of the citrus fruits; tangerines, grapefruit and so on.
IPA's can already be laden with citrus and grapefruit aromas. Adding something like grapefruit, which Ballast Point did to Sculpin IPA enhances the flavour and makes the beer a real aroma bomb.
Red Berries and Plums are used frequently in darks beers. Plum Porter is a classic combination that works great together.
Just take a look at a list of popular commercial fruit beers. I have added one below from ratebeer and it will give you an idea of what is possible and what flavours are going to work.
Finding Fruit To Use In Home Brew
When you add fruit to beer it doesn't have to be whole fruit that you prepare yourself. You can get fruit from the shops, there are so many options, although some are easier than others.
First and foremost though is you want to get the best tasting fruit. If you are going to put anything in your beer, why sacrifice flavour. If the fruit isn't ripe or for some reason you wouldn't eat it yourself don't add it to the beer.
Fresh Fruit
If you are using fresh fruit you are probably going to be limited to some extent by what is seasonal. Fresh fruit is great of course because you can see exactly what you are buying. You are able to assess how ripe it is, how good a condition and source it locally. In some cases you can even grow it or forage for the fruit yourself.
If you do use fresh fruit you'll usually have to process it yourself. This means cutting it up, mashing it or pureeing it in a clean and sanitary way.
Frozen Fruit
I really like using frozen fruit in my beers. In most cases frozen fruit is riper because it doesn't have to be sent to the store and sit on display like fresh fruit. It can be frozen right at the ripest point. This means more flavour and sugar, which is ideal for us brewers.
Freezing the fruit also breaks down the cell membranes allowing the flavour and juices to easily get into the beer. I usually freeze fresh fruit for this reason.
Another benefit of frozen fruit is it's usually cheaper than fresh fruit.
Fruit Concentrates, Purees and Juices
All the processing is done. Using purees and juices are perhaps the most convenient when adding them to home brew. The only thing to be sure of though is there are no preservatives or other additives that may interfere with your beer. In some cases these preservatives will be detrimental to fermentation by affecting the yeast.
Fruit Extracts and Essences
Using extracts and essences can be great. Err on the side of caution though. You really don't need to add a lot to get the flavour in a beer and adding too much can make an artificial tasting fruit beer.
How Much Fruit To Add To Beer
It's difficult to give you an amount of fruit to add to a beer because it's going to be different on a case by case basis.
If you are using delicately flavoured fruits you will want to add more to get that aroma in your beer, for stronger flavoured fruits you'll need less.
A starting figure for most fruits would be somewhere in the region of 60 – 100 grams per litre of beer.
Generally though you are going to need more fruit per batch of beer if the base beer is stronger in flavour.
As an example if you are making a Blackberry Stout you are going to need a lot more blackberries then you would if you were making a blackberry pale ale. The roasted grains in the stout are going to overpower the delicate fruit aroma so more is needed.
Use the table below as a guideline. These are starting numbers and will require some experimentation to get right for your own recipes.
| | |
| --- | --- |
| Apricot | 30-200g / litre or 0.25-2lb / gallon |
| Blackberry | Use up to around 120g / litre or 1lb / gallon |
| Blueberry | 50-240g / litre or 0.5-2lb / gallon |
| Cherry | 30-240g / litre or 0.25-2lb / gallon |
| Chilli | Subject to taste! Err on the side of caution |
| Mango | 50-180g / litre or 0.5-1.5lb / gallon |
| Passion Fruit | 30-120g / litre or 0.25-1lb / gallon |
| Peach | 50-240g / litre or 0.5-2lb / gallon |
| Plums | 50-240g / litre or 0.5-2lb / gallon |
| Raspberry | Use up to around 120g / litre or 1lb / gallon |
| Strawberry | 50-240g / litre or 0.5-2lb / gallon |
When To Add Fruit
There are a couple of options of when to add fruit. The main things we need to concern ourselves with is that the fruit doesn't introduce bacteria or wild yeast and that we get the most flavour from it in the best way.
The flavour we get from fruit is mainly aromatic and this means the flavours can be volatile escaping easily through fermentation and heat. So let's take a look at some ways to get the fruit in the beer.
During The Boil: Perhaps the easiest, although often not the best option to get fruit into beer is to add it at the end of the boil.
The main benefit of doing this is the fruit get completely sanitized at the boiling temperature. The main disadvantages are that when you boil fruit, it releases pectin. This will give you a hazy beer and you can sometime encounter a stewed fruit kind of flavour.
The other main disadvantage is that boiling drives away the aromatic flavours we are trying to introduce. Especially if you are using delicately flavoured fruit in the first place. Boiling should be reserved to stronger tasting more fleshy fruits if used at all.
During Fermentation: Adding fruit during fermentation is a great way to avoid the issues that surround boiling.
You will find adding fruit after primary fermentation has died down will mean you retain the most flavour. Carbon dioxide created during primary is likely to drive off some of the aromatics you want in the beer.
So adding the fruit at this point is the most beneficial flavour wise but we still want to make sure that there is no issues of introducing spoiling organisms.
If you are using juices or shop bought purees they will be ready to use without any processing. The fruit will have already been pasteurised before packing when it was produced. These fruit additions can go straight into the fermenter, again ensure there is no preservatives used in these products.
If you are using fresh fruit some brewers add it without any precautions and in most cases this will be fine. There is alcohol present from the initial fermentation that will make it hard for any bacteria to survive in the beer.
That being said I like to pasteurize the fruit I use. If you are putting the skins of the fruit, of something like plums or grapes, the skin is covered with wild yeast that will try to establish itself in the beer. If the beer is of lower alcohol content then this pasteurising process will be a good idea and avoid any potential spoiling.
Pasteurising The Fruit
Take your fresh fruit and prepare it ready to add to the fermenter. I usually mash the fruit and break it down a bit. It doesn't have to be completely pureed but just broken down enough to give some extra contact area with the beer. Some fruits are fine just by chopping or slicing them into smaller pieces.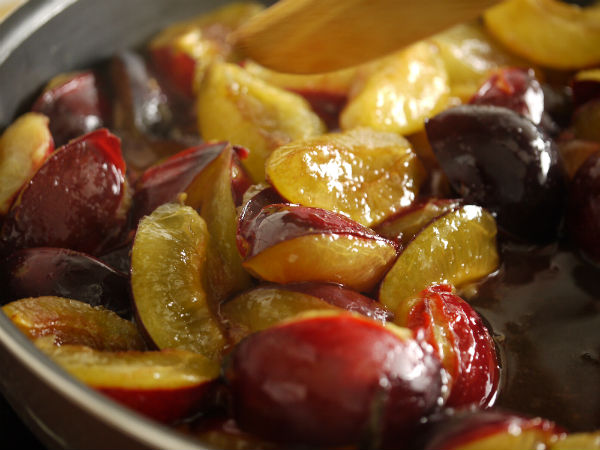 Place the fruit in a pan and add a small amount of water and very gently heat the mixture.
Stirring all the time to avoid heating too much, bring the temperature to between 66°C – 70°C (150°F – 160°F)
Once you reach this temperature, lower the heat and maintain this temperature range for 5 – 10 minutes. Try not to go too hot or the aromatics will change and pectin will be realeased by the fruit.
Allow to cool. The fruit is now ready to be used.
Separating Fruit And Beer
When you are adding fruit to the fermenter or at the end of the boil you'll need to remove it before bottling.
Perhaps the simplest way to do this is to add the fruit in a clean and sanitised muslin/straining bag. The whole thing can then simply be taken out.
It's not necessary to use a straining bag however. Simply racking the beer of the fruit with a syphon and racking cane into a clean fermenter will remove most of the solids. Placing a small filter at the end of the syphon will also aid the process.
Waiting a few days longer during fermentation will also help clear the beer as you'll find more debris and fruit particles will have sunk to the bottom of the fermenter.
Conditioning and Drinking
Using fruit in home brew will completely transform both the flavour and usually the colour depending on the type of beer. Strawberries will turn a pale beer a magnificent red hue.
Fruit does also add a small amount of protein and tannins that can affect clarity. Conditioning the beer in bottles or kegs cold for a short time will help precipitate out some of the haze forming products. Use of irish moss or protafloc in the boil will also reduce some of the chill haze.
The benefits of course of adding fruit to your homebrew are the flavour and aroma enhancements. It doesn't really matter how the beer looks as long as you get the flavour you want.
Hopefully with a little experimentation and note taking you can achieve your own perfect fruit beer.
https://homebrewanswers.com/shop/wp-content/uploads/2016/09/home-brew-answers.png
0
0
Neil
https://homebrewanswers.com/shop/wp-content/uploads/2016/09/home-brew-answers.png
Neil
2015-12-21 13:57:08
2015-12-21 13:57:08
Adding Fruit To Your Home Brew