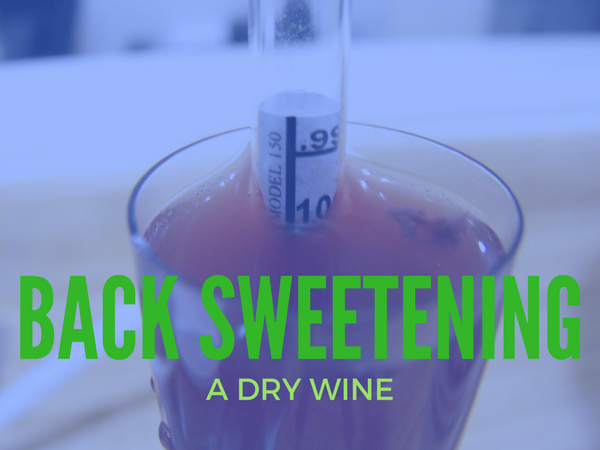 One of the issues many new winemakers face is making a wine that is simply too dry, back sweetening a wine is a simple remedy that can transform the finished wine.
Back sweetening ranges from turning a really dry wine into a semi-dry wine that isn't necessarily sweet, but suits your taste better. Or you can go all the way to creating a dessert wine that tastes sweet as dessert wines are intended to.
It is most often the case with fruit wines that rely on sugar as the primary fermentable. Plain sugar is 100% fermentable so when the yeast ferment the wine all of the sugars gets converted to alcohol leaving no residual sweetness. A wine that is too dry is fairly easy to remedy by back sweetening but you'll need to make sure of a few things before just adding sugar to the wine.
Back Sweetening a wine involves adding a type of sugar or sweetener back into the already fermented wine. Before you can do this we need to make sure that the sugar we add isn't going to start a second fermentation. To do this the wine needs to be stabilised which needs to be done once fermentation is completely finished and the wine has cleared.
When To Stabilise A Wine?
To stabilise a wine we need to use additives such as potassium sorbate, it should be noted though that these kinds of additives won't stop an active fermentation. The idea is to use the minimum amount of additives necessary to stabilise a wine. We don't want to add lots of potassium sorbate in case it alters the flavour or colour of the wine.
The point where you want to stabilise a wine is once the fermentation is completely finished, we can check this using a hydrometer, in most cases, a fruit wine will finish at a specific gravity around or below 0.998 – 1.000. Secondly, we want the wine to have cleared, with the yeast sedimented to the bottom. If the wine is still hazy the yeast may be in suspension still so trying to stabilise the wine at this point would not work effectively. To stabilise a wine you'll need an additive called potassium sorbate as well as sodium metabisulphite (Campden Tablets).
What Is Potassium Sorbate and Sodium Metabisulphite?
Potassium sorbate is an additive used extensively in the food industry as a preservative also called E202. It is used to prevent the growth of mould and yeast which is ideal for the winemaker.
The way it works is not to kill the yeast but to stop the yeast from reproducing. This means any live yeast will continue to ferment any sugars available but won't be able to reproduce new yeast cells. This is why we need to completely finish fermentation before stabilising the wine.
Sodium Metabisulphite is more commonly known as Campden tablets to home winemakers, it works as a disinfectant, preservative and antioxidant in food. This inhibits the yeast but also prevents oxidisation in the wine which stabilises the flavour and colour of the wine
How To Stabilise A Wine?
Once the wine is at a point where you are ready to stabilise, of course, you will have sampled the wine and tested with a hydrometer, you'll need to rack the cleared wine off any sediment into a new vessel. As we will be adding potassium sorbate and mixing any sediment will be stirred back into the wine which is not what we want.
Now with the wine in a new vessel, we can add the potassium sorbate and Campden tablet. You should pay attention to the recommended dosage instructed on the packages you have just in case they are differing strengths. The common dosage is 3/4 tsp of potassium sorbate and one Campden tablet.
Dissolve the additives in a small amount of boiled and cooled water until clear, the solution can then be added to the wine and mixed gently. Leave the wine for at least 12 hours before doing anything else.
Back Sweeten Your Wine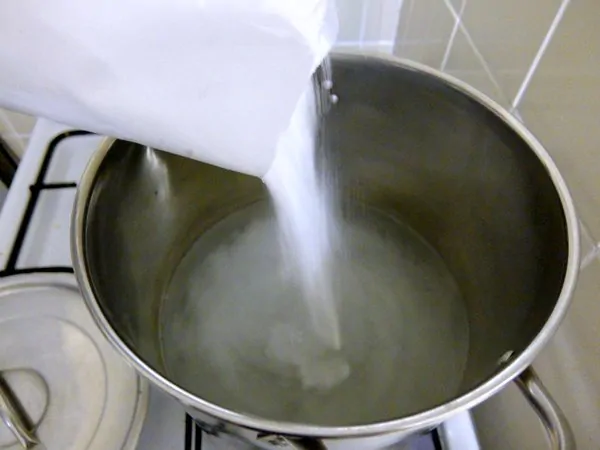 There are a few options as to what to sweeten your wine with. Plain sugar is the simplest, dissolve the sugar in water at a ratio of 1:1 and it can be dosed into the wine. Another option is to use a fruit juice. Grape juice, for instance, is going to add both flavour and sweetness that may be more desirable than just adding sugar. Glycerine is another option, it's a liquid polyol that is colourless, flavourless and odourless that tastes really sweet plus it's unfermentable as well. It's also sold in home brew shops as wine sweetener as well as some pharmacies.
To keep things simple let's say we want to back sweeten with sugar. You will want to dissolve a small amount of sugar, say 100 grams in 100 ml of water by boiling to create a sugar solution.
A small amount of this sugar solution can then be added to the wine. Add very small amounts, mix and test, it is very easy to over sweeten a wine.
To work out roughly how much you'll need to use it's you can take a small sample of wine to back sweeten. Take a small sample (100ml) of wine and add a few drops of the sugar solution at a time (a drop is 0.05 ml), keep sampling the wine to see when you reach the correct level of sweetness. Once you hit your sweetness extrapolate out the amount of sugar to the whole batch.
This same method is applicable if you are using fruit juice or other sweeteners.
It's not an exact science but this method will give you a rough amount to aim for but always be prudent, you can't really dry out an over sweetened wine. If you wanted to make a dessert wine, for example, with this strawberry wine simply add enough sugar so the balance is on the sweet side. Always sweeten the wine in bulk to get consistent results, it's not a good idea to try and back sweeten by the bottle.
https://homebrewanswers.com/wp-content/uploads/2017/01/BACK-SWEETENING.png
450
600
Neil
https://homebrewanswers.com/shop/wp-content/uploads/2016/09/home-brew-answers.png
Neil
2017-01-08 13:33:45
2017-10-26 07:32:40
How To Stabilise And Back Sweeten A Wine