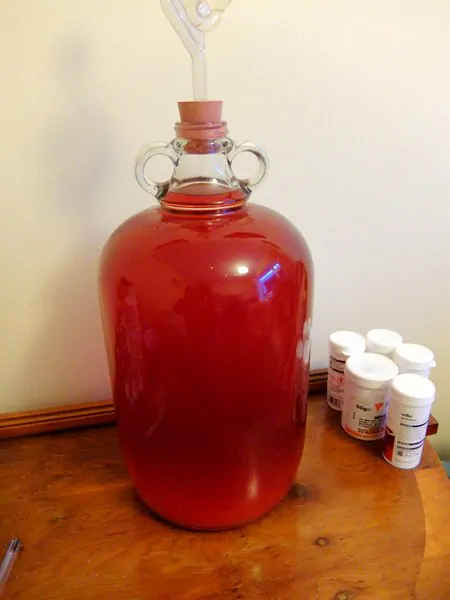 Strawberries, one of my favourite fruits, how can you capture that taste in a strawberry wine recipe? With any fruit wine recipe, the main flavour you want to really shine is the fruit you are using and sometimes it is tough to find that balance.This Strawberry wine recipe finds that balance with the delicate flavour of fresh strawberries tuned in with a crisp and slightly dry wine. There isn't lots of body to this strawberry wine but it is most definitely refreshing, crisp and the strawberries shine through right until the last drop.
Delicious Strawberry Wine
Strawberries have to be one of the most popular choices for a fruit wine. I don't know of many people who don't like eating strawberries and I think this turns into a desire to translate this into a wine recipe. In the UK in the summer the shops are full of strawberries, supermarkets buy them by the pallet load and you can generally pick and choose what varieties you may want to use in your strawberry wine recipe.
When it comes to selecting your strawberries for a wine it is a case of the riper the better. It's most often the case that when you buy strawberries in a supermarket they are around 75 – 85% ripe this is because the shelf life of fully ripe strawberries is a lot shorter. Once you pick a strawberry they do not ripen any further, they will colour more but won't ripen and get sweeter. Using strawberries for your wine that are only 80% ripe can be fine but there are other options to get sweeter strawberries.
Pick your own farms will give you the option to select fruit that is completely ripened, you have the choice of picking exactly the strawberries you want. This means that you can quality control each and every strawberry that will go in your strawberry wine and you can go from picking to processing the strawberries in a matter of hours. Another option is to use frozen strawberries, the great thing about frozen strawberries is they are most often picked when they are riper as they are frozen quickly after picking they won't degrade on the shelf at the shop. The other thing with frozen strawberries is they are usually already prepared with the green part removed and often they're cheaper than the fresh.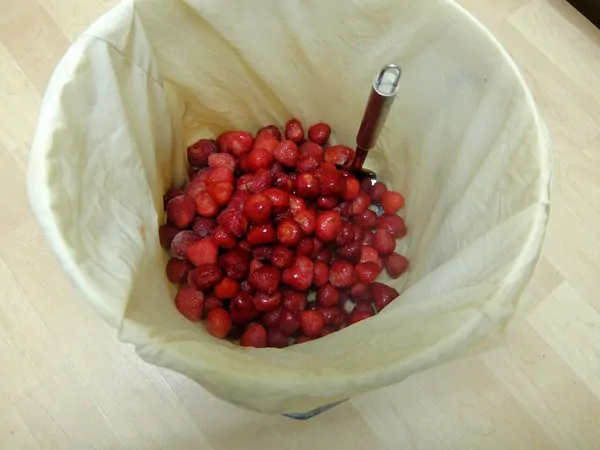 This strawberry wine recipe I have used frozen strawberries although it's completely fine if not better to use fresh, ripe fruit. I'm making this in winter so fresh strawberries are not in season. One thing I will mention about freezing is that when the fruit is frozen it breaks down the cells when you defrost the strawberries the juice pretty much runs out of the fruit which is great for making wine. The first thing we will be doing in this recipe is mash the berries to break them up.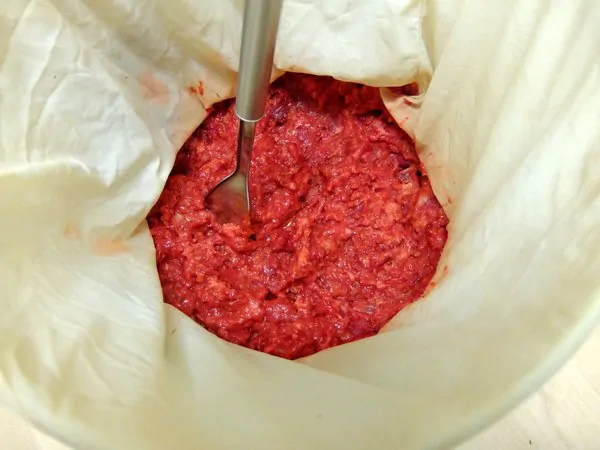 To make this strawberry wine you'll need the following piece of equipment which you can pick up here if you don't have already:
Fermenting Bucket
Nylon Straining Bag
1 Gallon Demijohn 
Bung & Airlock
Potato Masher
Hydrometer
Syphon
Bottles, Corks and Corker
Strawberry Wine Recipe Ingredients – Makes 4.5 litres / 1 gallon
1.8 kg Strawberries
1 kg Sugar
4 litres Water
1 tsp Acid Blend or Citric Acid
1 tsp Yeast Nutrient
1/2 tsp Pectic Enzyme
1/8 tsp Tannin
1 sachet Champagne Yeast / Lalvin EC-111
Strawberry Wine Recipe Method
Begin by boiling the water and sugar together, ensure the sugar is fully dissolved. Once at a boil turn off the heat.
If you are using fresh strawberries prepare them by removing the stems and washing, pick through and remove any bad fruit.
Place the nylon straining bag into the fermenting bin, add the prepared strawberries and begin mashing with a clean, sanitised potato masher. The idea is to break up the strawberries as much as possible, releasing the juice and colour.
Pour the boiled sugar and water solution over the strawberries and mix everything together. Allow to cool and then add the acid blend, yeast nutrient, tannin and Campden tablet. Put the lid on the fermenter with an airlock and leave for 12 hours.
After 12 hours add the pectic enzyme, mix and leave for 24 hours.
After the 24 hours add the yeast to begin fermentation. Allow fermentation to go on for a week and stir once every one or two days, this helps extract as much flavour from the fruit as possible which will have the tendency to float.
After a week lift out the straining bag with the pulp and allow to drain as much as possible, avoid squeezing the bag.
Take a hydrometer reading, if the wine is below 1.010 specific gravity rack the wine into a sanitised demijohn. If not leave for a further few days and check the gravity again. Once racked attach a bung and airlock and leave.
Wait for at least 2 months or more and the wine can then be racked off the sediment. You can wait for the strawberry wine to completely clear before racking to a new vessel. After this either let it age further for a few months or bottle. If you wish to back-sweeten the wine stabilise and follow this advice here.
This strawberry wine is best kept for a few months and up to a year.
https://homebrewanswers.com/wp-content/uploads/2017/01/DSCF4837.jpg
450
600
Neil
https://homebrewanswers.com/shop/wp-content/uploads/2016/09/home-brew-answers.png
Neil
2017-01-05 16:23:49
2017-05-22 13:00:04
Strawberry Wine Recipe: The Only Recipe You'll Ever Need