Banana wine might sound odd, believe me, I was unsure of how this wine recipe would taste too but it is definitely worth trying. Bananas are full of sugars and are one of the sweetest fruits available to most people. This sweetness is perfect for wine making and with just a few additions to balance the acidity you will have a very memorable, full-bodied banana wine that will make you wonder why you even questioned this in the first place.
It turns out that bananas are great for winemaking. You will often see recipes for other fruit wine and especially floral wines that call for the addition of bananas because the provide sweetness, body and a subtle flavour boost to wines that would otherwise be a little insipid.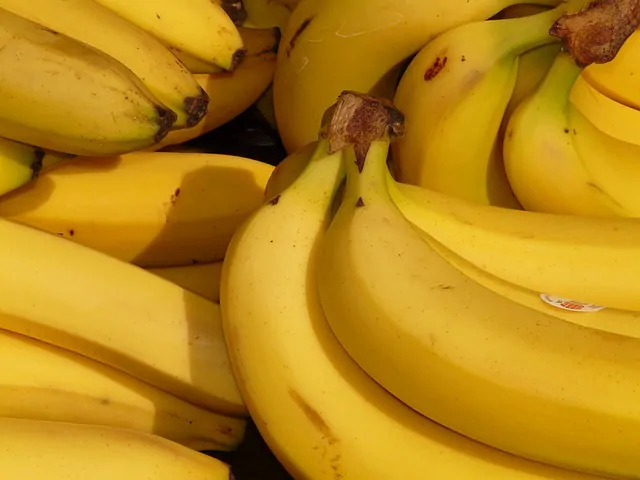 The great thing about making a banana wine is that you can do it at any time of year. You can buy bunches of bananas from almost any supermarket across the globe at almost any point of the year. You aren't constrained to a seasonal harvest like you would be with other fruit. The other thing is that in many places bananas are one of the cheapest fruits by weight so it makes this banana wine recipe very inexpensive to make.
Banana Wine Recipe With Endless Possibilities
Banana wine is also a great wine to blend with other fruit wines. If you find a fruit wine you have made is too tart to your liking, for example, blending it with a finished banana wine made with this wine recipe is a great way to bring it back into balance. Banana pairs so well with other fruits and spices the possibilities are endless with this recipe.
A good thing to experiment with is starting this banana wine recipe as laid out below and then adding additional fruits to the wine to create your own blends, banana and raspberry work well together and I have made this wine a few time. Spices work well too if you like a sweeter tasting wine banana and vanilla wine when back-sweetened makes a great dessert wine.
As you can tell there is plenty of scope to come up with your own signature wine using a simple banana wine recipe. You can also be sure that not many people with have tried a banana wine before as there is virtually no industrial production of banana wine only small home scale production. This is why you are going to have to make this banana wine recipe for yourself.
Picking and Prepping Your Bananas For Making Banana Wine
This recipe requires you to use the sliced bananas, peel and all so when you are picking bananas you will probably want to go with something that is organic. This way you will know there are no pesticides or other sprays on the banana peel that will get into your wine.
The next thing you will want to do is to keep the bananas around for a while to ripen. The riper the better without going completely black. We want the skins to have large brown spots and the bananas to be as sweet as possible so buy the bananas ahead of time and allow them to get over-ripe.
Lastly, it should be noted that this is a recipe for banana wine and will not work for plantains.
Equipment What You Will Need For This Banana Wine Recipe – Makes 1 gallon / 4.5 litres
Large Stock Pot
Syphon
Airlock & Bung
Banana Wine Ingredients
Banana Wine Recipe Method
1. Bring half of the water to a boil in the large stockpot. Whilst the water is heating up slice the bananas including the skins and secure in the straining bag. Submerge the straining bag in the boiling water and simmer gently for 30 minutes.
2. After simmering for 30 minutes remove the pot from the heat. Lift out the straining bag with the bananas and set to one side for a moment. Pour the liquid from the pot into a sanitised fermenting bucket and then add the straining bag with the bananas as well.
3. Take the remaining half of the water and add to the stockpot with the sugar. Heat to a boil and stir to dissolve the sugar and prevent from burning. Simmer for a few minutes, remove from the heat and then add this to the fermenter. Along with this add the acid blend, tannin and yeast nutrient. Allow to cool to room temperature.
4. Once cooled add the crushed Campden tablet and mix thoroughly, allow to stand for at least 12 hours.
5. After at least 12 hours add the pectic enzyme and mix thoroughly. 24 hours after adding the pectic enzyme add the yeast by sprinkling onto the surface of the must, fit a lid and airlock. Fermentation will begin a few days after this.
6. Allow fermentation to progress for a week stirring daily, after this remove the straining bag and the remains of the banana. Leave for a further 3 days and the fermentation should have died down completely. At this point you can syphon the banana wine into a demijohn or carboy, fit with a bung and airlock.
7. Allow the wine to condition in the demijohn for 3 – 4 months racking to a sanitised carboy once or twice after sediment builds up.
8. After conditioning, for at least 4 months or up to 6 you are ready to bottle the wine. You may want to sample the banana wine and back sweeten it if you prefer a less dry or sweeter wine. Once bottled I like to set aside a few bottles for a number of months and you will notice the banana wine will keep improving with age up to a couple of years.
https://homebrewanswers.com/wp-content/uploads/2017/11/Banana-Wine-Recipe.jpg
480
640
Neil
https://homebrewanswers.com/shop/wp-content/uploads/2016/09/home-brew-answers.png
Neil
2017-11-02 16:35:23
2017-11-02 16:35:23
Banana Wine Recipe - A Wine You Need To Try For Yourself