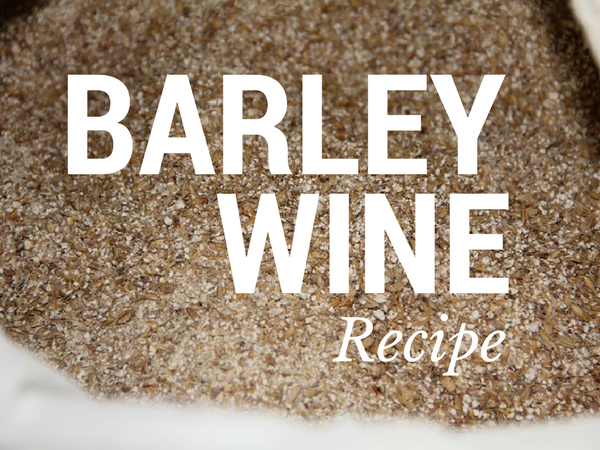 Brewing big beers like this Barley Wine recipe is always a bit more of a challenge and more interesting than the regular old "house beer" that we grow accustomed to brewing time and time again.
These heavy, high alcohol beers develop over time and you should be brewing something like this barley wine to store away and just have a bottle every now and again. On special occasions and when friends or family come around it's nice to have something a little different to showcase your brewing skills. If you are at all interested in history and techniques behind brewing a beer like a Barley Wine check out this book, it is fantastic.
There is a lot of examples of Double IPAs that seem to be increasingly popular at the moment and the thing with those beers is they need drinking fresh to get the most from the hops. The Barley wine we have here though needs time and rather than being a showcase for hops is a showcase for malt and how those flavours evolve with time.
English Barley Wine Recipe
The first thing you may notice about brewing a Barley Wine is the amount of alcohol. This is why I decided to ramp up some yeast by making a smaller beer in the first instance and then using the yeast slurry from that fermentation for the Barley Wine. This is not entirely necessary of course you may want to just use a couple of packages of yeast which will have a similar effect of pitching a higher cell count. I am brewing a smaller beer anyway so it makes sense for me just to reuse the yeast.
This will be more than enough to ensure a good fermentation of a higher ABV beer like this Barley Wine. I have talked about reusing yeast before so if you're wondering what's involved take a look at this post – Reusing Yeast.
What I Want In A Barley Wine
Generally speaking, a Barley Wine is a very strong bitter in many aspects. Barley Wine is a bit more special than a strong bitter because of the malt bill being beefed up so much you end up with richer, deeper and more complex malt flavours and this is what I want to really shine through in my version.
Take a look at the BJCP guidelines regarding an English Barley Wine:
Flavor: Very rich and strongly malty, often with a caramel-like aroma. May have moderate to strong fruitiness, often with a dried-fruit character. English hop aroma may range from mild to assertive. Alcohol aromatics may be low to moderate. The intensity of these aromatics often subsides with age. The aroma may have a rich character including bready, toasty, toffee, molasses, and/or treacle notes. Aged versions may have a sherry-like quality, possibly vinous or port-like aromatics, and generally more muted malt aromas. Low to no diacetyl.

Mouthfeel: Full-bodied and chewy, with a velvety, luscious texture (although the body may decline with long conditioning). A smooth warmth from aged alcohol should be present. Carbonation may be low to moderate, depending on age and conditioning.

Ingredients: Well-modified pale malt should form the backbone of the grist, with judicious amounts of caramel malts. Dark malts should be used with great restraint, if at all, as most of the color arises from a lengthy boil. English hops such as Northdown, Target, East Kent Goldings and Fuggles. Characterful English yeast.
The Barley Wine Recipe
Now with the above in mind I have come up with my own take on a Barley Wine and like pretty much all my recipes I have gone pretty simple, when I look at recipes that contain a whole array of malts, sometimes in such small quantities I can't really tell what they are going to add I tend to move on. I think allowing each ingredient to speak for itself is what makes a good beer.
Barley Wine - English Barleywine
================================================================================
Batch Size: 19 L
Boil Size: 23.4 L
Boil Time: 60.000 min
Efficiency: 70%
OG: 1.102
FG: 1.025
ABV: 9.9%
Bitterness: 50.0 IBUs (Tinseth)
Color: 26 SRM (Morey)
Fermentables
================================================================================
Name  Type    Amount Mashed Late Yield Color
Pale Malt, Maris Otter Grain  8.800 kg    Yes   No   82%   6 L
Caramel/Crystal Malt - 80L Grain 500.000 g    Yes   No   74% 158 L
Brown Sugar, Dark Sugar 700.000 g     No   No  100%  50 L
Total grain: 10.000 kg
Hops
================================================================================
Name Alpha   Amount  Use       Time Form  IBU
Target 11.0% 60.000 g Boil 60.000 min Leaf 39.4
Goldings, East Kent  5.0% 20.000 g Boil 30.000 min Leaf  4.6
Goldings, East Kent  5.0% 40.000 g Boil 15.000 min Leaf  5.9
Yeast
================================================================================
Name Type Form   Amount   Stage
Safale S-04  Ale  Dry 22.000 g Primary
Mash
================================================================================
Name     Type   Amount     Temp   Target       Time
Infusion 18.000 L 76.546 C 65.000 C 60.000 min
Final Batch Sparge Infusion 16.000 L 89.137 C 74.000 C 15.000 min

Barley Wine Specifics
Now as you can see there is an addition of dark brown sugar. I am aiming to get those sherry and liquorice like flavours from this addition and also add a bit of colour. Add this in toward the end of the boil to aid hop utilisation.
The hops are simple and are there to balance, I want my Barley Wine to be rich and malty rather than bitter. The IBU is around 50 which may seem high but remember that because of the amount of malt (and thus higher alcohol) the bitterness will not be the same as 50 IBU is in a pale ale.
I should be ready to brew this soon. As soon as my smaller beer is out of primary I will be able to reuse the yeast and get this going. Bear in mind this Barley Wine is going to need considerable time fermenting and then conditioning we are talking about a month in secondary and then at least 8-12 months conditioning in bottles. You could, of course, sample a bottle every now and then in between this time to give yourself an idea of the way the beer is ageing in the bottle.
https://homebrewanswers.com/wp-content/uploads/2017/01/BARLEY.png
450
600
Neil
https://homebrewanswers.com/shop/wp-content/uploads/2016/09/home-brew-answers.png
Neil
2017-01-26 10:21:42
2017-10-31 14:11:32
Big English Barley Wine Recipe