Hop heavy beers are not always my favourite to drink. Don't get me wrong I love a nicely hopped, aromatic, juicy IPA, but not as my go to beer. Maybe it's the Englishman in me but over an evening I like having a few beers. Big hoppy beers usually overwhelm me and are best left for the end of an evening. However, saying that, I do have an abundance of big, bold US hops filling the freezer, my loving wife complains every time we go shopping because they take up the whole bottom drawer leaving no room for food. The obvious solution of course is a big hoppy IPA, you have to make sacrifices right.
In all honesty I may be hoarding because after looking through the drawer I found multiples of certain hops and packs I bought several years ago sitting unopened. Although they have been stored unopened in the freezer it kind of goes against the advice most people would give to "use the freshest ingredients available". I think the problem stems from the fact that so often varieties will be out of stock that when I do see something available at a decent price it gets added to the cart even if I'm not going to be using it for my next couple of brews. Don't judge I'm sure most of you guys do the same … don't you?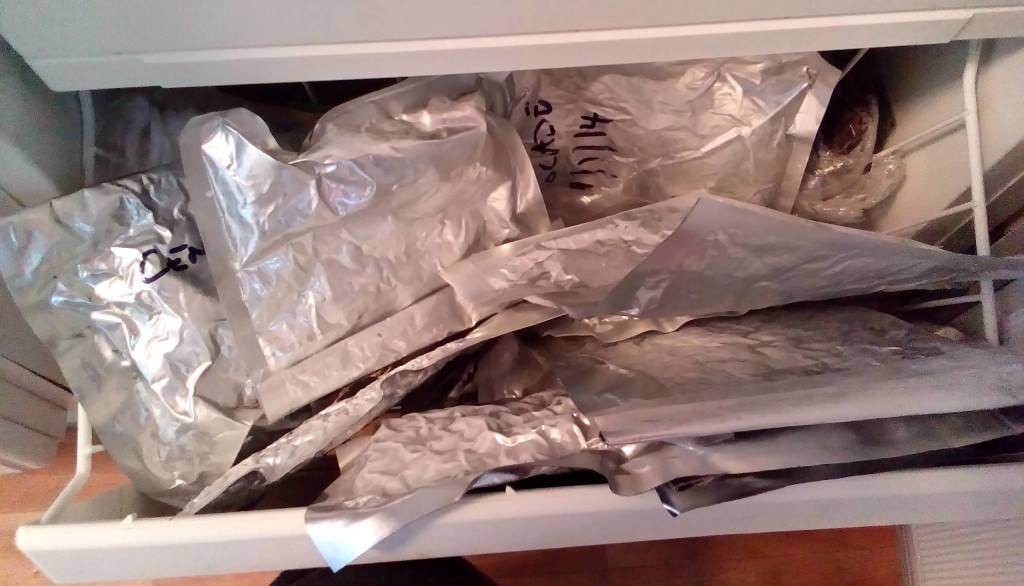 Anyway let's get onto the beer.
The grain bill for this beer was simple. Although it's principally about the hops, when you use large amounts of hops you need to balance them as much as possible. The gravity needs to increase so the bitterness isn't astringent and you want the body to be fairly light so as not to have too many competing flavours. Too much crystal malt can become too cloying especially at a higher gravity. It's warm here at the moment so I used Caramalt to keep the beer nice and light and have limited the ABV to around 6% so it's still somewhat refreshing, if you can say that about a 6% beer.
Bittering this beer used up the last of a pack of Apollo hops which had enough alpha acids that only a small addition is required. I didn't want to add masses of lower alpha acid hops and end up with lots of plant matter in the boil. Too many leaf hops in the boil would have meant I'd lose a fair amount of the wort to the spent hops so keeping these additions small is economical and prevents a whirling vortex of leaves in the kettle.
I added my aroma hops 5 minutes before the end and then a couple of minutes after flameout when the immersion chiller is added which would be around 85-90°C. Both aroma additions were exactly the same to keep things simple.
As for what I used for the aroma additions, I had lots of hops I could of gone for but decided upon Citra and Cascade with both pellets and leaves that needed using. They seem to be a popular pairing but not one I've used before so it's time to see what they are like together. I have used Citra for bittering before and am not convinced of their quality in this department, they seem to have a certain cattiness which is why I went for Apollo as the bittering hop.
All the hops I used in the boil were leaf hops which I prefer and give me a nice bed to filter the wort through when running into the fermenter. My dry hops are pellets, again both Citra and Cascade added straight into the primary fermenter for a week.
Citra / Cascade IPA Recipe
Citra / Cacade IPA 
================================================================================
Batch Size: 19.000 L
Boil Size: 22.819 L
Boil Time: 60 min
Efficiency: 70%
OG: 1.062
FG: 1.015
ABV: 6.0%
Bitterness: 55.8 IBUs (Tinseth)
Color: 7 SRM (Morey)
Fermentables
================================================================================
Name  Type    Amount Mashed Late Yield Color
Pale Malt (2 Row) UK Grain  5.000 kg    Yes   No   78%   3 L
Simpsons - Caramalt Light Grain 400.000 g    Yes   No   76%  13 L
White Wheat Malt Grain 200.000 g    Yes   No   86%   2 L
Total grain: 5.600 kg
Hops
================================================================================
Name Alpha   Amount     Use       Time   Form  IBU
Apollo 17.0% 25.000 g    Boil 60.000 min   Leaf 46.6
Citra 12.0% 20.000 g    Boil  5.000 min   Leaf  5.2
Cascade  9.0% 20.000 g    Boil  5.000 min   Leaf  3.9
Citra 12.0% 20.000 g   Aroma    0.000 s   Leaf  0.0
Cascade  9.0% 20.000 g   Aroma    0.000 s   Leaf  0.0
Cascade  9.0% 30.000 g Dry Hop  5.000 day Pellet  0.0
Citra 12.0% 30.000 g Dry Hop  5.000 day Pellet  0.0
Yeast
================================================================================
Name Type Form    Amount   Stage
Safale S-05  Ale  Dry 11.000 mL Primary
Mash
================================================================================
Name     Type   Amount     Temp   Target       Time
Infusion 15.000 L 71.000 C 65.000 C    0.000 s
Final Batch Sparge Infusion 13.895 L 83.084 C 74.000 C 15.000 min

This is the first recipe I have posted here on Home Brew Answers. When the beer is bottled and conditioned I'll add the tasting notes in a further update and hopefully compile a nice record of brews, successes and failures. If you want to keep updated on future posts add your email below and I will let you know when posts get uploaded.
https://homebrewanswers.com/shop/wp-content/uploads/2016/09/home-brew-answers.png
0
0
Neil
https://homebrewanswers.com/shop/wp-content/uploads/2016/09/home-brew-answers.png
Neil
2015-08-13 13:22:52
2015-09-20 13:10:49
Citra / Cascade IPA Recipe