The Cascade and Citra combo, how did it turn out? This beer has been in the bottle for about 3-4 weeks now so it's time to evaluate and critique it.
As with most of my beers I check out the first few bottles after two weeks and then when I'm happy it's conditioned hand a few out to friends and family and a bid to get a wider range of feedback. As you will probably know it's difficult to gauge how people really feel about a beer you just handed them because unless you have particularly blunt, straight -talking friends they are likely to say "it's good" no matter what it tastes like.
The reaction to this beer though has been easier to pick up, myself and quite a few of my testers have been visibly impressed (a much better sign than, "it's good") by this Cascade / Citra IPA combination.
What's more the brewday went extremely smoothly and fermentation went by without any issues, once primary fermentation settled down, I chucked in the hop pellets loose and 5 days later they whole lot had settled to the bottom of the fermenter. When the whole process is so easy and unremarkable it makes brewing the beer itself, a joy.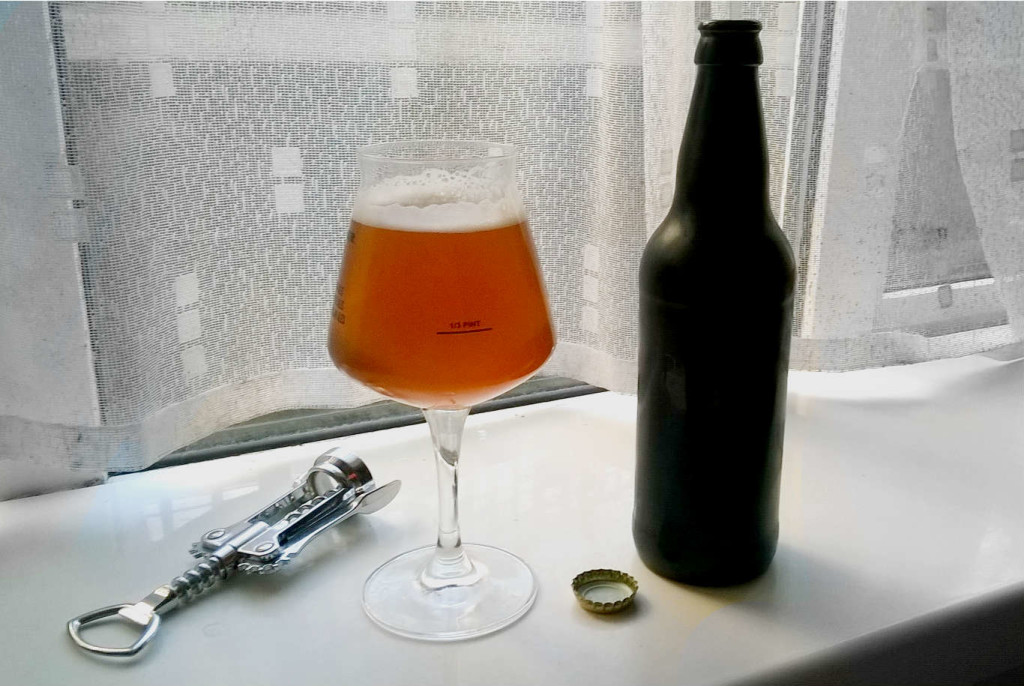 Look: Initially whilst this beer was conditioning in the bottle the haze was pretty prevalent, after a couple of weeks however it has settled down and now only has a slight haze. The colour is golden to dark honey and the pour leaves a firm white head that dissipates as you move down the glass but lingers at the edges.
Smell: Big citrus notes and effervescent tropical notes and a slight floral hint. The alcohol and malt is undetectable under a big blanket of the Citra and Cascade dry hop.
Taste: Fairly big bitterness but not overwhelming, enough to grab your attention and linger for a while but not enough to impact on the citrus and floral notes that are carried through. The malt is holding it's own without fighting for attention, a honeyed quality from the Caragold is noticeable and perfectly compliments the hop flavours. There is a slight sweetness in the taste that is attributed to the crystal malt.
Feel: Fairly light and particularly refreshing when served this cool (at around 12°C). Carbonation is good but fairly moderate and the bitterness doesn't dry the mouth like in some more heavily bittered beers.
Overall: The combination of Citra / Cascade works really well in this beer. I can see why it's a popular combination. The beer is well balanced although the sweet note at the end of the taste could be dialled back a tiny amount. Overall however, this is one of my favourite IPA's that I have brewed and definitely worth re-brewing in the future.
https://homebrewanswers.com/shop/wp-content/uploads/2016/09/home-brew-answers.png
0
0
Neil
https://homebrewanswers.com/shop/wp-content/uploads/2016/09/home-brew-answers.png
Neil
2015-09-05 17:35:04
2015-09-06 14:17:03
Citra / Cascade IPA Tasting