Today we have an Coffee Liqueur recipe by a guest author and friend of mine Lindsay. I actually received this coffee liqueur as a gift over christmas and I thought it tasted so good I asked for the recipe. Lindsay kindly wrote up the process and has allowed me to post it here.
It really does taste great and is an ideal first liqueur to make. You can do it at any time of year where as with fruit based liqueur you often have to wait for the fruit to be in season.
It also makes a great White Russian which is a nice simple cocktail. I have included the recipe for at the bottom of the page.
Anyway, over to Lindsay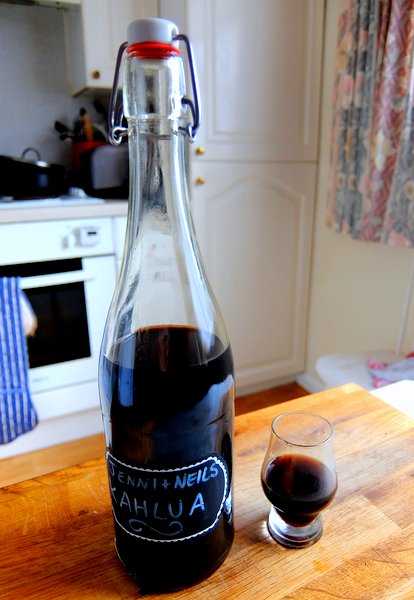 Coffee Liqueur Recipe
By: Lindsay
Over the last 2 years, Neil has introduced me to several really yummy products from his home-brewing passion. And as Christmas approached, I thought it was about time I returned the favour by making a tasty and drinkable Christmas present!
There was only one slight problem…. I didn't have any of the home-brewing kit. So what was I to do?
One evening in the pub, I asked Neil about making alcohol that didn't require a beer brewing kit, trying to be surreptitious with my questioning. The last thing I wanted to do was to spoil my Christmas present idea! Neil opened my eyes to the possibility of infusing alcohol, suggesting a huge variety of ideas for alcohol bases and the spices, fruits and flavourings I could add. This gave me an excellent foundation to start searching for the perfect Christmas present.
As both Neil and his wife Jenni (my best friend ☺) both enjoy drinking coffee, I decided to base my infusion on a coffee flavour. This made coffee liqueur or Kahlúa the perfect choice! Simple and tasty, I could easily make this in my own kitchen without any special equipment. Coffee liqueur is way cheaper to make yourself, and is just as delicious.
Homemade Coffee Liqueur (Kahlúa)
Ingredients:
150g instant coffee
450ml boiling water
450g brown sugar
280g white sugar
70cl vodka
2 teaspoons vanilla extract
Method:
Place the coffee in a large glass bowl and pour over the boiling water. Stir the liquid until most of the coffee has dissolved. Add both of the sugars and stir the liquid. The sugar will not fully dissolve – this is ok, what you will have now is quite a thick liquid. Once the liquid has cooled, stir in the vodka and vanilla essence.
If you would like a creamier coffee liqueur, add 55ml of a butterscotch flavoured liqueur at this point. For my recipe, I added 10 drops of chocolate bitters instead. This recipe is tasty without either addition, it's just for personal taste.
Once you have added everything, cover the bowl with cling film. Leave the bowl at room temperature for at least two weeks (I left mine for four weeks), stirring the mixture every couple of days. Then pour the liquid into bottles – and remember to use clean bottles!
This recipe makes ~ 2 litres of coffee liqueur, and you can keep it for 6-8 months.
Enjoy!
(adapted from Veronica's Cornucopia)
Bonus: White Russian Recipe
To make a White Russian couldn't be simpler. It can be a little too easy to drink so take care!
Here are the ingredients:
2 parts Coffee Liqueur
1 part Vodka
1 part Single Cream or Milk for a lighter version
Method:
I like to use a glass tumbler and add some ice cubes
Add the measure of vodka.
To the single measure of vodka add 2 measures of your freshly made coffee liqueur
Finally add a single measure of single cream/milk. Stir together thoroughly and that's all there is to it.
I got this coffee liqueur for christmas and I have to say these white russians are great. The coffee flavour is really good and it is all too easy to drink these so take care.
https://homebrewanswers.com/wp-content/uploads/2016/01/DSCF4339.jpg
600
414
Neil
https://homebrewanswers.com/shop/wp-content/uploads/2016/09/home-brew-answers.png
Neil
2016-01-11 17:13:00
2017-11-26 14:39:33
A Recipe To Make Coffee Liqueur