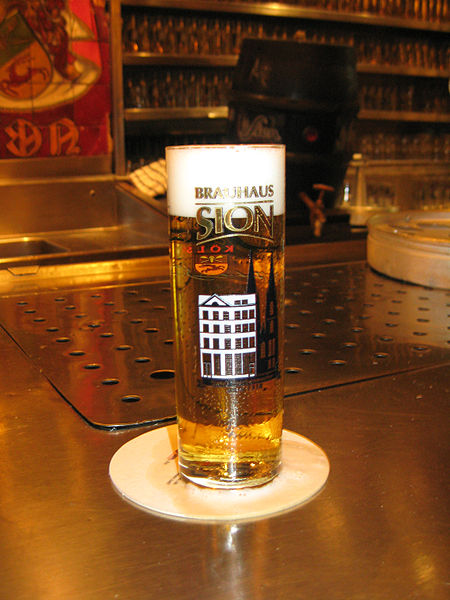 I'm not really doing a Kolsch recipe it's a "Kolsch-style" recipe!
Kolsch is one of those beer styles it seems that to truly appreciate and understand you have to make a trip to Cologne in Germany.
When you write about it you have to talk about the architecture and the cathedrals in the city. The bars where they serve Kolsch and the waiters that bring the beer to your table in Stange beer glasses.
The trouble is, I have never been to Cologne or even to Germany. Sadly I have only had bottled versions of Kolsch and those examples I have tried are kind of . . . bland?
Fruh Kolsch is the most widely available example and it's different to differentiate from any bottled Pilsner. This may be the way it's filtered and pasteurised for bottling. It means though that I only have other peoples romanticized descriptions of Kolsch to go by.
There is only one thing for it then. Brew my own version of Kolsch. edit: Here are the tasting notes.
Kolsch Recipe Quest
As I say, I tried a few bottled examples of Kolsch and they were pleasant. The beer didn't really match my expectations though. I'd read a fair amount and was expecting more, what I experienced was another type of lager.
I love refreshing, crisp beers and a good lager is a great option. I was expecting something more akin to an English summer ale though.
Here is what the BJCP have to say on the character of Kolsch taken from the BJCP guidelines
Soft, rounded palate comprising of a delicate flavor balance between soft yet attenuated malt, an almost imperceptible fruity sweetness from fermentation, and a medium-low to medium bitterness with a delicate dryness and slight pucker in the finish (but no harsh aftertaste).

The noble hop flavor is variable, and can range from low to moderately high; most are medium-low to medium. One or two examples (Dom being the most prominent) are noticeably malty-sweet up front. Some versions can have a slightly minerally or sulfury water or yeast character that accentuates the dryness and flavor balance. Some versions may have a slight wheat taste, although this is quite rare. Otherwise very clean with no diacetyl or fusels.

A clean, crisp, delicately balanced beer usually with very subtle fruit flavors and aromas. Subdued maltiness throughout leads to a pleasantly refreshing tang in the finish. To the untrained taster easily mistaken for a light lager, a somewhat subtle Pilsner, or perhaps a blonde ale.
Maybe the quote above just proves I'm an untrained taster but I like to think I just haven't tried the best examples of Kolsch.
A Note On BJCP Guidelines
If you want to research a style of beer you are looking to brew then a great place to start are the BJCP guidelines.
Using this Kolsch recipe as an example I can refer to the guidelines and straight away I know what malt to use, hops, mash schedule, fermentation temperature. As well as colour, ABV, OG, FG and what commercial examples are available should I wish to try those to compare.
If you are designing a recipe based on a style of beer you can't go wrong by checking out the guidelines.
Kolsch Ingredients
After a little bit of research this is what I have come up with for my version of Kolsch.
Malt Profile: It's simple and subtle, primarily Pilsner malt with a touch of Vienna and Wheat for the bright white head. There is nothing brash or bold about these malts. We are aiming for smooth, crisp and clean flavours.
Hops: If you are brewing a Kolsch-a-like then you have to choose a German variety. I have gone for a single hop, Hallertauer Mittelfrueh because I like it and I already have some stored in the freezer.
Everything I have read has said that the bitterness is assertive but not overpowering so I have gone to around 24 IBU. I am also going to go quite assertive with the aroma addition at the end of the boil. I am a big fan of Hallertauer and I don't mind going a little over the guidelines to make a beer a bit more personal to my tastes.
You could of course go completely off style and use whatever hops you like. That is the beauty of home brewing you can brew an American hopped Kolsch or an imperial kolsch it's completely up to you.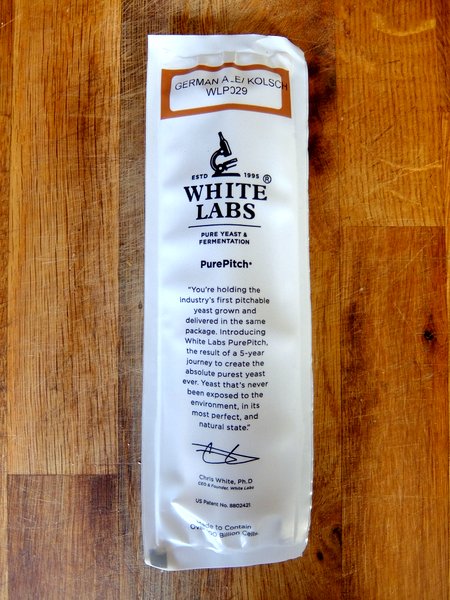 Yeast: I got myself some White Labs WLP029 German Ale / Kolsch yeast. I believe it's cultured from a brewpub in Cologne and is said to accentuate hop flavours. Most importantly it's a super clean tasting yeast and gives that crisp, refreshing quality that we are looking for.
I made a starter from the pure pitch sachet the evening before brewday and pitched into the wort at 20°C.
The Kolsch Recipe
Here is the recipe for this Kolsch style attempt. I will follow up shortly with some tasting note and pictures. edit: Here are the tasting notes.
Kolsch - Kölsch
================================================================================
Batch Size: 20 L
Boil Size: 23.335 L
Boil Time: 60.000 min
Efficiency: 70%
OG: 1.047
FG: 1.012
ABV: 4.6%
Bitterness: 23.5 IBUs (Tinseth)
Color: 4 SRM (Morey)
Fermentables
================================================================================
Name  Type    Amount Mashed Late Yield Color
Pilsner (2 Row) Ger Grain  4.000 kg    Yes   No   81%   2 L
Vienna Malt Grain 200.000 g    Yes   No   78%   4 L
Wheat Malt, Ger Grain 100.000 g    Yes   No   84%   2 L
Total grain: 4.300 kg
Hops
================================================================================
Name Alpha   Amount  Use       Time Form  IBU
Hallertau  4.5% 38.000 g Boil 60.000 min Leaf 18.2
Hallertau  4.5% 30.000 g Boil 10.000 min Leaf  5.2
Yeast
================================================================================
Name Type   Form    Amount   Stage
WLP029 - German Ale/Kölsch Yeast  Ale Liquid 35.000 mL Primary
Mash
================================================================================
Name     Type   Amount     Temp   Target       Time
Single Infusion 14.000 L 71.429 C 65.000 C 60.000 min
Final Batch Sparge Infusion 14.000 L 80.666 C 74.000 C 15.000 min
https://homebrewanswers.com/shop/wp-content/uploads/2016/09/home-brew-answers.png
0
0
Neil
https://homebrewanswers.com/shop/wp-content/uploads/2016/09/home-brew-answers.png
Neil
2016-01-08 15:41:39
2016-02-05 18:24:31
Kolsch All Grain Recipe That Goes By The Book