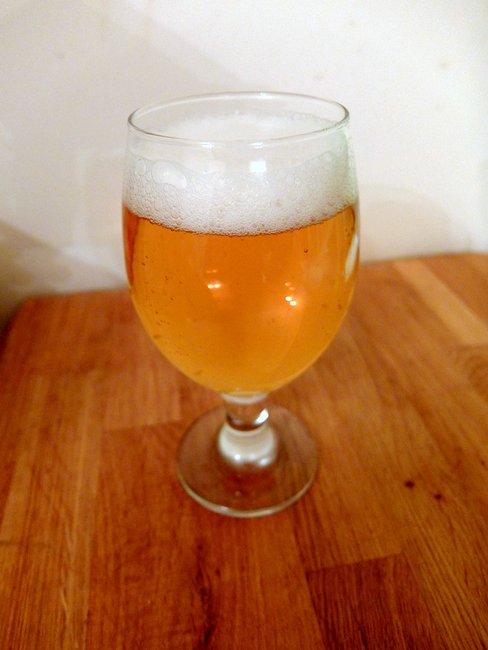 Around a month ago I shared the recipe for a Kolsch I brewed. As promised I will now share the tasting notes for the beer.
As a home brewer I find sitting and writing these tasting notes really helpful. It is such a great exercise I would recommend every brewer do it. I mean actually sit and write your thoughts, rather than just tasting and thinking about the beer. Writing about how something tastes seems to help really dial in on different aspects of the beer.
It is also a good reference for seeing how a beer ages as it conditions in the bottle or keg. Writing things down serves as a record that can be reproduced a few months down the line or even years.
Wine tasting has a long, developed history and the descriptors that go along with that are universal. I don't think beer tasting has quite gotten to that level, maybe because commercial beers strive to be consistent for each and every batch. Writing tasting notes for a beer should be the same year to year.
Home brewers however often don't make the same beer more than a handful of times and most only are brewed once before moving onto the next recipe. This is where tasting note could be really important to developing your own flavour profiles and having a recipe to go along with those flavour descriptors can only be beneficial for future recipes.
I have long advocated writing as much as you can down about your beers but that is not why I am writing, I am supposed to be tasting this Kolsch.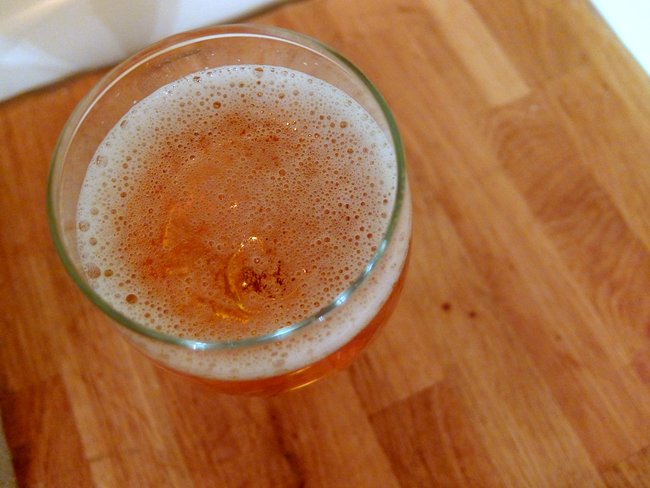 Kolsch Tasting
Look: The colour of this Kolsch is almost the same as light honey. The grain bill lends the beer a straw colour with the pilsner and vienna malts. The head is bright white and pillowy, whilst I am drinking the head is receding with hardly any lacing down the glass. This is one of the clearest beers I have made with only protafloc or kettle finings. The beer really shines in the glass thanks to the clarity.
Smell: The aroma is very subtle and mellow. A small amount of grain is perceptible and a touch of green fruit like apple although you really have to search for it. Other than that note much, the aroma is very clean and a swirl of the glass is the only way to coax it out.
Taste: The taste is clean, a little crisp maybe from the green fruit like aroma and has a sweet undertone. The hops are present but subtle, there is a touch of spiciness that I can detect and the bitterness is there but restrained. The aftertaste is almost silky and a lingering sweetness stays around until the next sip. It's one of those beers that you keep sipping almost too quickly to try and discover the next flavour. There is the merest hint of sulphur that is in the background, I'm not sure if this is from the yeast or malt but I believe it may be within the style guidelines.
Feel: The body is light and fairly dry. The flavours seem to linger for a lot longer than you would imagine for a beer that is quite light in terms of mouthfeel. The fluffy head on the beer is delicate and dissipates fairly quickly once you start drinking.
Overall: I'm am really happy with the way this kolsch turned out. It matches everything that I have read about the style and considering it wasn't actually lagered it comes pretty close to that sort of flavour profile. It feels like one of those beers you sip on a hot summer's day, unfortunately I don't think it will last that long so that makes this beer a worthy contender for a re-brew. The yeast is what makes this beer so if you are considering brewing this then I can't recommend this enough.
https://homebrewanswers.com/shop/wp-content/uploads/2016/09/home-brew-answers.png
0
0
Neil
https://homebrewanswers.com/shop/wp-content/uploads/2016/09/home-brew-answers.png
Neil
2016-02-05 18:22:46
2016-02-14 09:02:05
Kolsch Tasting & Taking Notes