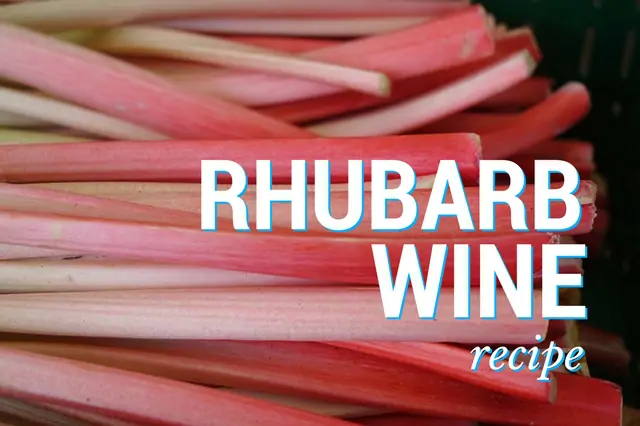 Rhubarb Wine is actually a vegetable wine, although, rhubarb is the vegetable that is almost always used like you would a fruit. The sharp tartness is a great quality that really shines through in a country wine so this rhubarb wine recipe is a definite winner.
Most people will be familiar with rhubarb in the form of rhubarb Crumble. Plenty of sugar helps to restrain the acidity and tartness of the rhubarb. If you like the taste of rhubarb then you'll be pleased to know the flavour comes through in the finished wine.
The reason why rhubarb is so tart is because the stems contain an excess amount of oxalic acid. This is also the reason why some people have an aversion to rhubarb. Too much oxalic acid is bad for wine yeast and may result in poor fermentation so we will take this into account when preparing the recipe.
Reducing the amount of acid is a fairly simple process of making a small addition of chalk which causes a reaction and reduces the acidity in the wine. Apart from this one small step the process is the same as almost any country wine recipe.
It should be noted that rhubarb leaves should not be used in wine or eaten. The levels of oxalic acid are far too high and can in fact be poisonous (you would have to eat a lot for it to be problematic). The stems are perfectly edible and can be used in wine. Rhubarb is always sold without leaves so it's only really an issue if you are picking your own rhubarb..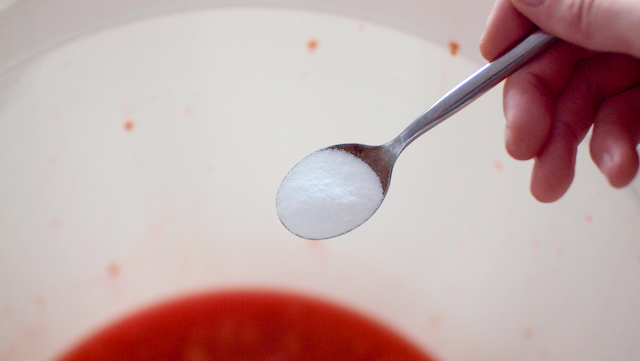 Using Rhubarb In A Wine
Rhubarb has two crops in a year, the first crop is forced rhubarb and is grown earlier in the year, around January to February. The stems and leaves are grown under pots and the result is a pale pink stem that is more delicately flavoured and tender.
The second crop of rubarb is grown outside and arrives late March until June, the resulting crop is slightly hardier darker in colour and contains more oxalic acid than the forced rhubarb. This stronger flavour may be less desirable to cook with but is still great to make wine with.
Later in the season some rhubarb stems can become a bit tough and stringy which makes these stems less desirable to eat but still fantastic to make wine with. If you grow rhubarb yourself then consider using the larger and tougher stems to make a wine.
What You'll Need To Make Rhubarb Wine – Makes 1 gallon / 4.5 litres
The equipment you'll need to make this rhubarb wine is fairly straightforward if you've made wine before you may have everything you need:
Fermenting Bucket
Demijohns
Large Pan
Syphon
Fine Straining Bag
Airlock & Bung
Rhubarb Wine Recipe Ingredients
1.5kg – 2kg of Rhubarb Stalks
1.2kg Sugar
250g Chopped Raisins
1/4 tsp Wine Tannin
1/2 tsp Pectic Enzyme
1 tsp Yeast Nutrient
1 Campden Tablet
1 tsp Calcium Carbonate (Precipitated Chalk)
Rhubarb Wine Method
In a clean and sanitised fermentation bucket add the rhubarb stalks cut up into inch pieces and chopped raisins to a straining bag. Break up the rhubarb slightly with the end of a rolling pin, just enough to split the stalks, you don't need to completely mash them.
In a pan combine the sugar with 1.9 litres of water and bring to the boil. Once boiling turn off the heat and pour over the ingredients in the straining bag. When the mixture is cool add the campden tablet, stir thoroughly and let stand for 48 hours.
After 48 hours lift out the straining bag and squeeze out the juice. Into the remaining liquid add 1/4 tsp of Calcium Carbonate (Precipitated Chalk) every 30 minutes stirring thoroughly. The mixture will fizz as the chalk reacts with the oxalic acid.
After this step add the pectic enzyme, stir and leave for 24 hours.
After 24 hours add the tannin along with the yeast nutrient, mix thoroughly and then sprinkle the yeast on the surface of the must.
Allow to ferment for two weeks before racking to a demijohn to allow the wine to condition and clear. Leave in the demijohn for a few months until completely clear racking to a new demijohn when necessary. Check these steps for more information on racking and maturing wine.
Rhubarb wine is best left for the best part of a year before enjoying, maybe open a bottle once every few months to see what I mean.