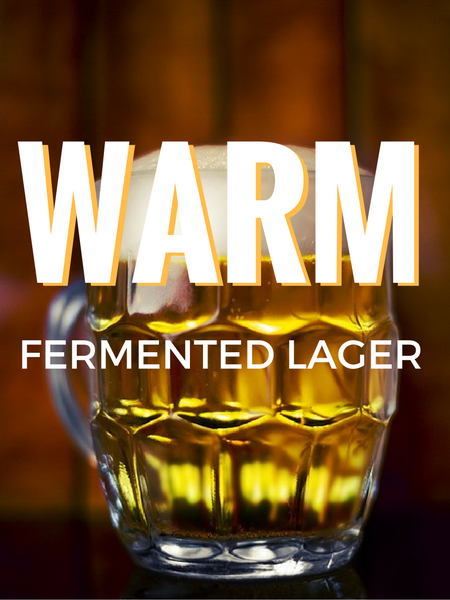 Fermenting a beer with a lager yeast at ale temperatures. There are probably a few purists that will say the beer will end up a mess of off flavours and fusel alcohols. I have bent the rules however and done this very thing, fermented a lager yeast at 18°C and the result, is quite simply, a fantastic beer!
The term lager is not really appropriate to a beer fermented at ale temperatures. One of the most distinguishing features of lager is that it is matured in cold storage (store/storeroom is the literal translation of lager). The other defining feature of lager however, is the yeast strain used to ferment it. Ales are fermented with top fermenting yeast (Saccharomyces cerevisiae) and lagers are fermented with a different species of yeast (Saccharomyces pastorianus) which are bottom fermenting.
It's safe to say a lager made at ale temperatures cannot be called a lager at all, it is a hybrid beer. Will it taste like a lager, though? Or will it taste like a complete mess? Depending on your recipe and the lager yeast strain you use, it can taste just like a lager, there may be some differences in a side by side comparison but you get a lot of the same characteristics as well as a delicious beer in its own right.
If you would prefer a more traditional lager recipe you will find my go to Pilsner recipe here.
Warm Temperature Lager Yeast Strains
When choosing a yeast strain to use you have to do a little research. If you look at the note released with each strain provided by the manufacturer you can easily find suitable lager yeast strains that can deal with higher temperatures without producing a lot of undesirable flavours. It should be noted, not all lager yeast strains are going to make a pleasant beer if you ferment them warm.
Every yeast lab will give you recommended fermenting temperatures for each yeast strain they produce. As an example take the dry yeast from Fermentis:
Saflager W-34/70, it states right on the front of the packet the recommended fermentation temperature range is between 9 – 22°C, this is something I only first noticed from a post on Brulosophy, the range does seem incredibly wide.
Wyeast 2124 Bohemian Lager is another yeast strain I have experimented with. Bohemian Lager, this is another yeast strain that has the detail we are looking for right in the notes from the lab;
A versatile strain, that is great to use with lagers or Pilsners for fermentations in the 45-55°F (8-12°C) range. It may also be used for Common beer production with fermentations at 65-68°F (18-20°C).
If you spend a little time looking up various yeast strains it is possible to find something you can use in an unconventional way. These two strains just go to show that yeast can be a very versatile ingredient of a beer recipe.
Common Beer
In the quote from Wyeast above, you may have noticed the term Common beer. This refers to an American lager beer style like California Common or Steam Beer. One notable example of a common is Anchor Steam Beer. The defining features of these American Lagers are that they are fermented with lager yeast strains at higher than usual temperatures.
This quote from the BJCP guidelines gives us an idea why these lagers are fermented warmer:
Large shallow open fermenters (coolships) were traditionally used to compensate for the absence of refrigeration and to take advantage of the cool ambient temperatures in the San Francisco Bay area. Fermented with a lager yeast, but one that was selected to thrive at the cool end of normal ale fermentation temperatures.
Common beers are usually fermented around 14 – 18°C, which, as you can see is just in the ballpark of an ale fermentation temperature. This makes the case for using lager yeast at warmer temperatures even stronger, one particular yeast strain that is synonymous with steam beer is WLP810 San Francisco Lager yeast from white labs. The recommended fermentation range for this yeast is between 15 – 18°C.
California Common is not a beer that is widely produced in the UK, I'm not too sure why this is but there are many hundreds of examples brewed in the US that the British drinker may be familiar with, the previously mentioned Anchor Steam and Flying Dog Amber Lager are a couple of examples.
Designing A Warm Fermented Lager Recipe
Now we know there are some lager yeast strains that can turn out a beer when fermented warm then we can think of how to make a beer around them. I decided that there was not much point in following any particular style guidelines for this kind of beer. You could, of course, follow a particular lager recipe if you wanted.
I know that I wanted a beer that was light in colour like a pilsner but also that uses ingredients that were closer to home just like the early California Common brewers would do.
It's for this reason I have chosen a grain bill made up of 50% Pilsner malt and 50% Extra Pale Maris Otter. Extra pale Maris Otter is a grain I've been using a lot recently and it provides some of the character of Maris Otter we all know while lending itself to lighter coloured beers.
The hops are a combination of Perle from Germany and a classic hop variety for lagers alongside East Kent Golding to give the lager an earthy and floral note.
The yeast strain in this beer is the most important part of the recipe. I chose Saflager W-34/70 and held the fermentation temperature at 18°C, there was plenty of sulphur notes coming from the fermenter on the nose but not very much at all, if any, in the taste when the beer was bottled. Whether you agree with me or not this yeast strain has made a delicious lager and I am in the process of experimenting a little more with these "common" style beers.
Maris Otter EP Lager - Dortmunder Export
================================================================================
Batch Size: 18.000 L
Boil Size: 21.000 L
Boil Time: 60.000 min
Efficiency: 70%
OG: 1.053
FG: 1.013
ABV: 5.2%
Bitterness: 22.3 IBUs (Tinseth)
Color: 6 SRM (Morey)
Fermentables
================================================================================
Name  Type   Amount Mashed Late Yield Color
Pale Malt, Maris Otter Grain 2.300 kg    Yes   No   82%   6 L
Pilsner (2 Row) UK Grain 2.300 kg    Yes   No   78%   2 L
Total grain: 4.600 kg
Hops
================================================================================
Name Alpha   Amount  Use       Time Form  IBU
Perle  8.0% 20.000 g Boil 60.000 min Leaf 17.9
Perle  8.0% 10.000 g Boil 10.000 min Leaf  3.2
Golding  5.0% 10.000 g Boil  5.000 min Leaf  1.1
Yeast
================================================================================
Name  Type Form    Amount   Stage
Saflager Lager Lager  Dry 11.000 mL Primary
Mash
================================================================================
Name     Type   Amount     Temp   Target       Time
Mash In Infusion 11.960 L 73.092 C 65.556 C 75.000 min
Final Batch Sparge Infusion 11.031 L 87.450 C 75.556 C 15.000 min

https://homebrewanswers.com/wp-content/uploads/2017/04/Warm-Fermented-2.png
600
450
Neil
https://homebrewanswers.com/shop/wp-content/uploads/2016/09/home-brew-answers.png
Neil
2017-04-02 14:27:45
2017-04-03 08:18:46
Lager Fermented At Ale Temperatures?