Plums come in many different forms, sharp, sweet, yellow, red or purples. You have plums suited for cooking whilst others are best eaten straight from the tree. The great thing about them though is if you have a tree nearby you can usually get quite an impressive glut of them, depending on the year and they make a fantastic wine. This Plum wine recipe is simple and easy and it doesn't matter what variety of plums, whether they are Victoria, Goldens or Damsons.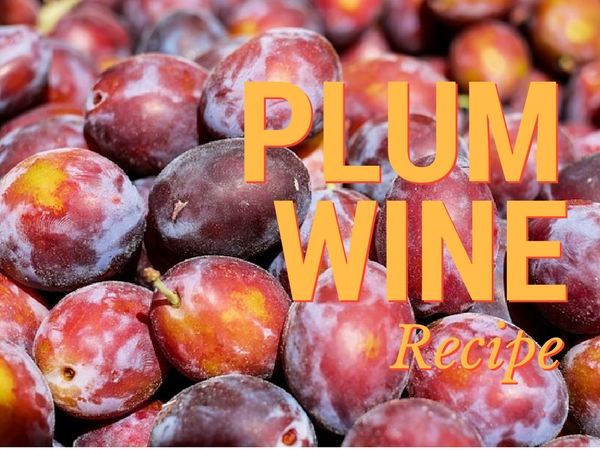 As there are so many different types of plums is makes the finishing wine a little variable, as an example you get some plums that are nearly black in colour, these are going to make a much darker wine than victoria plums for instance which are a more blushed pink colour.
There are some basic rules of thumb for getting the best wine whatever kind of plums you use, firstly, you want to get the ripest fruit possible. The riper the fruit the higher the concentrations of sugar and juice and this always makes for a better finished wine. Plum wine can have a tendency to be a tad thin bodied and mild flavoured so harvesting your plums at the point where they are most fully flavoured is key to your wines success.
Plum trees are pretty common in the UK and more often than not, if you have a plum tree in your garden, you will have a glut around the end of August or September. Plum trees can be really productive and you only really need around 1.5 – 2kg per gallon of plum wine so you will have more than enough.
If you want to make this plum wine but don't have any trees nearby then you can buy plums in. I would recommend you still wait until the fruit is in season rather than buying imported fruit. British fruit when in season tends to have a slightly fuller flavour and because they aren't travelling as far the plums will be riper and have higher sugar content.
Preparing Plums For Wine Making
To prepare the fruit for wine making you will need to pick through the plums and discard any bad or damaged fruit, give them a wash and then remove the stem and the stones. You should leave the skin on the fruit as this will provide colour and a small amount of tannin which is desirable. Cut the fruit into quarters over a bowl to save all the juices that come out of them.
What You'll Need To Make Plum Wine – Makes 1 gallon / 4.5 litres
The equipment needed for this plum wine recipe is fairly straightforward. You will need the following items, you can pick up any equipment you do need here.
Fermenting Bucket
Demijohn
Medium Pan
Funnel
Syphon
Potato Masher
Fine Straining Bag
Airlock & Bung
Plum Wine Ingredients
Method
Place the wine straining bag in the sanitised fermentation bucket into this add the prepared plums. Mash the plums with a sanitised potato masher to break them up and free the juices.
In a medium pan combine the water and sugar and bring to the boil, ensure all the sugar is fully dissolved. Once boiling turn off the heat, pour the hot sugar solution over the plums secured in the straining bag.
Allow to cool to room temperature and then add the Campden tablet, tannin, acid blend and yeast nutrient and mix thoroughly. 12 hours after this add the pectic enzyme to the must and mix again.
After 24 hours has passed you can sprinkle the sachet of yeast onto the surface of the must. Allow to ferment for around a week stirring daily.
After a week lift out the straining bag and allow to thoroughly drain. Let it settle for a few days and then rack the wine into a clean and sanitised demijohn, attach a bung and airlock and leave the wine to condition and settle for around a month.
As the wine clears and the sediment builds up rack to a clean demijohn again. I like to leave this wine in the demijohn for around 4-5 months and then bottle. This plum wine is fairly dry but it is also particularly good if you like sweeter wines, to learn how to back sweeten this wine then see this guide.
https://homebrewanswers.com/wp-content/uploads/2017/05/PLUM.jpg
450
600
Neil
https://homebrewanswers.com/shop/wp-content/uploads/2016/09/home-brew-answers.png
Neil
2017-05-23 16:16:47
2017-05-23 18:41:07
Simple & Easy Plum Wine Recipe