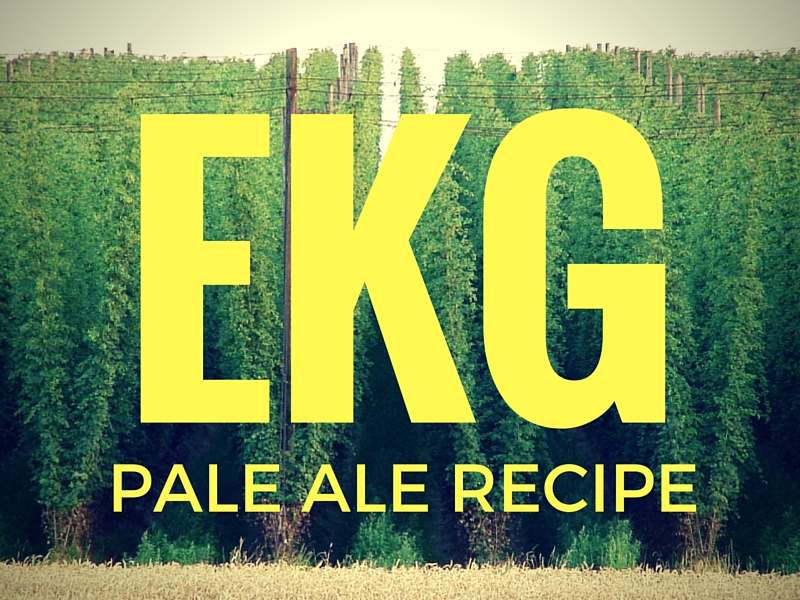 Many current pale ales have become synonymous with piney, tropical and citrusy American hops. When I first started drinking though at the turn of the millennium, this wasn't the case. Pale or rather golden beers were riding a wave of popularity with the most English of ingredients at their core, Maris Otter malt and East Kent Golding Hops.
Summer Lightning by Hop Back Brewery led this trend of pale, English bitters after winning Champion Beer of Britain in the late 1980's. The inspiration of such beers like Summer Lightning and Exmoor Gold by Exmoor Ales comes in part from the popularity of lager at the time. Most pub goers would settle for nothing other than the palest of lagers whereas most ales at the time were typically darker, copper coloured, verging on brown.
Pale & Thirst Quenching
An English bitter with 100% Maris Otter is going to appear almost as light as most lagers. When I first tasted Summer Lightning however it was recognisably bitter and whilst it appeared so, the taste was not that of European Lager.
Many people think that Summer Lightning isn't quite the same as it was when it rose to popularity. Whether that is a consequence of having to rapidly scale production or whether drinkers tastes change. To me it was the beer that was on in most pubs local to me when I first started drinking. It most probably the beer that got me drinking ales rather than lager which nearly all my friends would of been drinking.
When you look at the ingredients for Summer Lightning now it's hard to envision how it could ever set the beer world on fire. It was a gateway beer, a transition from lager to ale and led to a whole raft of summer or golden ales trying to duplicate the success of Hopback's Summer Lightning.
It is to my taste undoubtedly a summer thirst quencher and a welcome sight after a hard days work. Drinkability is often overlooked with the modern iterations of massively hopped pale ales and IPA's a pint of one of these beers can overwhelm the palate and dry the mouth out. Beers like Summer Lightning has a drinkability that is sometimes missing from some examples of today's craft beers. I'm not saying modern hop bombs are bad, packing bags of flavour into a beer is only ever going to be a good thing. Sometimes though you want balance and subtlety, to enjoy a few pints whilst socialising, not deliberating the intricacies of your third of a pint measure.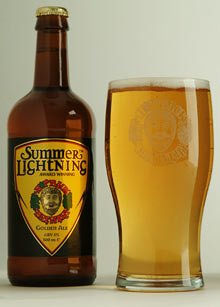 Summer Lightning owes a lot to the choice of hops, East Kent Golding. This is a beer that relies on the simplest of recipes, just pale malt and Golding hops. All of my earliest attempts at home brewing used East Kent Goldings as the primary aroma hop. After a few batches I began to love the aroma brought about by adding heavy amounts at the end of the boil.
Summer Lightning Inspired Recipe
Whilst they will never attract the same sort of attention as the bold and brash American hops that are so popular now, some drinkers are of the opinion that hoppy beer has to taste of grapefruit or citrus. What East Goldings add as an aroma hop if used in quantity is something fantastic in my view, you may just have to learn what it is for yourself. Here's a recipe to help you discover it.
This isn't intended to be a Summer Lightning clone recipe, it's definitely inspired by it. A crisp, light summer beer that showcases large doses of East Kent Goldings but rather more punchy in the hopping schedule.
EKG Summer Ale - English IPA
================================================================================
Batch Size: 20 L
Boil Size: 23.009 L
Boil Time: 60.000 min
Efficiency: 70%
OG: 1.046
FG: 1.009
ABV: 4.8%
Bitterness: 44.0 IBUs (Tinseth)
Color: 4 SRM (Morey)
Fermentables
================================================================================
Name  Type    Amount Mashed Late Yield Color
Maris Otter     UK Grain  3.700 kg    Yes   No   78%   3 L
Pilsner (2 Row) UK Grain 900.000 g    Yes   No   78%   1 L
Total grain: 4.600 kg
Hops
================================================================================
Name Alpha   Amount     Use       Time Form  IBU
Golding  5.5% 65.000 g    Boil 60.000 min Leaf 36.8
Golding  5.5% 35.000 g    Boil 10.000 min Leaf  7.2
Golding  5.5% 35.000 g   Aroma    0.000 s Leaf  0.0
Golding  5.5% 35.000 g Dry Hop  3.333 day Leaf  0.0
Yeast
================================================================================
Name Type Form    Amount   Stage
Danstar - Nottingham  Ale  Dry 11.001 mL Primary
Mash
================================================================================
Name     Type   Amount     Temp   Target       Time
Infusion 12.000 L 73.000 C 65.000 C 60.000 min
Final Batch Sparge Infusion 16.000 L 80.518 C 74.000 C 15.000 min

https://homebrewanswers.com/shop/wp-content/uploads/2016/09/home-brew-answers.png
0
0
Neil
https://homebrewanswers.com/shop/wp-content/uploads/2016/09/home-brew-answers.png
Neil
2016-06-25 09:45:40
2016-06-25 09:45:40
A Nod To Summer Lightning - East Kent Golding Pale Ale Recipe