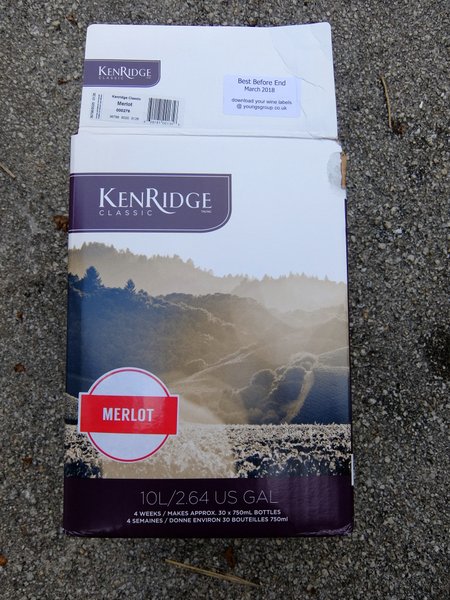 I recently made one of the Kenridge Classic wine kits, in this instance the Merlot. I'm a big fan of wine making kits. In terms of the quality they produce, wine kits have really opened my eyes to different winemaking possibilities and compared to many beer kits they often produce a far superior finished product. I have sampled a few over the years and as with many things the more you pay the better the product you get. The reason I want to review this wine kit however is because I was really surprised at just how good it is.
The Details
Wine Kit: Kenridge Classic Merlot
Price: £59.99
Why It's Good: Higher quantity of grape juice than other kits, simple and clear instructions and very good finished wine for a very reasonable price.
What You Get: A full rundown of what in the wine kit is laid out just below, here
What You Need: Only a few items of equipment are need and they don't cost a lot if you don't have them already. Here is what you need to get started.
If you have had no previous experience with wine kits then I suggest you take a look at this article on completing a wine kit. This article takes you through all the steps of actually producing a wine from a kit and tells you exactly what equipment you'll need.
Wine kits seem to be superior to beer kits in my view because the base i.e. grape juice retains more of its flavour and aroma after being concentrated. Beer kits on the other hand tend to lose some of the subtle and delicate flavours when it's concentrated into a syrup. That however is just my opinion based on my previous experiences.
Anyway, onto the review of this Kenridge Classic Merlot the reason why you probably arrived here.
Kenridge Classic Merlot – What You Get In the Box
Grape Concentrate: The biggest selling point and the reason the Kenridge Classic is at the slightly more premium end (£60 for 30 bottles) of the range of wine kits is the amount of grape juice you get.
In a 30 bottle wine kit you get 10 litres of grape concentrate whereas in other kits such as the Beaverdale range you get around 7 litres of grape concentrate. Generally the more grape concentrate you use the more flavour you are going to get. When preparing the wine you dilute the concentrate with water, with 10 litres of concentrate you need less water to make up the batch so you end up with more robust flavours in the finished wine.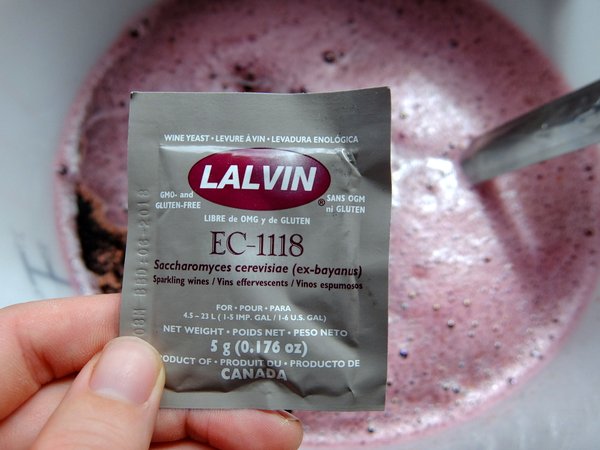 Lalvin Yeast: The yeast supplied with the Kenridge Classic wine kit is not a generic, no label sachet that you will sometimes find with other wine kits. The yeast with this wine kit is the Lalvin EC-118 which is a real workhorse, fast fermenting and has clean, neutral flavours. The temperature range for this Lalvin yeast is also fairly wide so is forgiving enough to do a good job even where temperature during fermentation may be variable.
Oak Chips: This Merlot varietal kit comes with oak chips to add a further dimension to the finished wine. It is of course completely optional whether to add the oak to the wine, if you don't particularly like oaked wines you can leave it out. Having the option to add more complexity to the wine though is a definite plus point.
Finings & Stabilisers: The Kenridge kits come with all the standard additives to both stabilise the wine and clarify it within the space of a few weeks. This means you can go from grape to glass within a relatively short space of time. The wine is ready to bottle in around 4 weeks and drinkable almost immediately, although it is highly recommended to age some of the bottles as the will improve markedly over time.
What Sort of Equipment Is Needed?
The Kenridge Classic wine kits are typical of most wine kits on the market in terms of preparation. They do take slightly longer to produce in terms of fermentation, conditioning and clearing, which as I said above is around 4 weeks.
In terms of equipment though you'll only need the following items:
2 x Fermenting vessels & airlocks: The suggestion is to ferment in a fermenting bucket for primary then rack to a carboy clearing and conditioning. I however just used two fermenting buckets and there was no issue here.
Syphon tubing and racking cane: Moving the wine between vessels you'll need to syphon it. It is pretty important to have a racking cane to leave as much as the sediment behind as possible. This will help to clear the wine a lot quicker and more effectively.
Hydrometer: Checking the gravity to begin with and to ensure the wine has finished fermenting is important. Check out this guide if you aren't familiar with using a hydrometer.
Wine bottles & corks w/ corker: The kit makes 30 bottles so you'll need 30 x 75cl wine bottles and of course some corks and a corker to seal the bottles.
Sanitiser: Keeping everything clean and sanitised is so very important.
I won't go into the process of making the kit right here, although it is very simple and the instructions are very clear. I have documented the process in the article here and there are plenty of pictures to help you along with the process.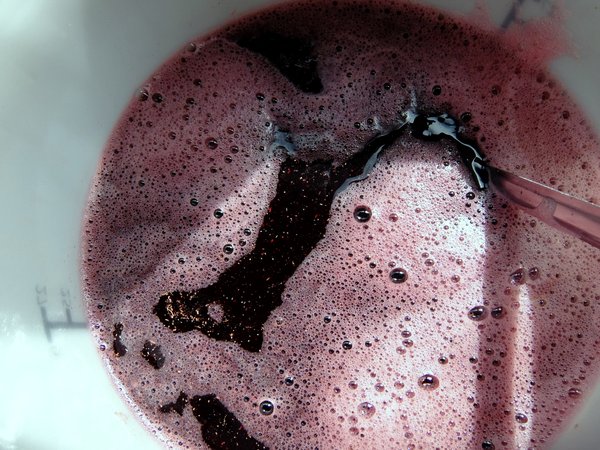 How Does The Kenridge Classic Merlot Taste?
This is what I expect most people will be looking for. How does the wine kit taste?
This Merlot is a medium bodied and smooth wine. The taste is of red fruits and if you use the oak chips like I have then you get notes of vanilla and leather on the palate.
I have to say compared to the slightly cheaper wine kits the Kenridge Classic is definitely worth the extra money. The flavour and body even at this early stage of just a few weeks after being bottled is on another level compared to kits like the Beaverdale varieties. As with pretty much all wine kits they get better with age, you can keep bottles for a couple of years and they will get better. That is the beauty of wine kits like this, of course with 30 bottles you can afford to keep a few aside for a while to see how the flavour and quality progress.
If you were to go out to the supermarket to buy a similar quality wine to the Kenridge Classic Merlot you would have to spend £6 or more in my opinion, that is the kind of wine it seems to sit alongside. This particular wine kit however turns out at £2 a bottle so you can't really go wrong with a price like that.
https://homebrewanswers.com/wp-content/uploads/2016/01/DSCF4248.jpg
450
600
Neil
https://homebrewanswers.com/shop/wp-content/uploads/2016/09/home-brew-answers.png
Neil
2016-06-29 10:15:35
2017-01-17 09:54:42
Kenridge Classic Wine Kit Review - Merlot