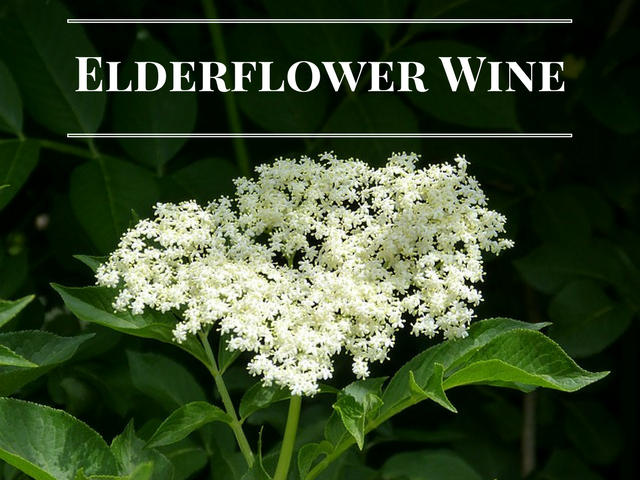 Elderflower wine has one of those flavours that is so distinct you cannot really compare it to anything else. That elusive floral bouquet seems to be amplified in a wine and the number of elderflower bushes in the UK makes it one of the most popular ingredients for wine making. Most people opt to make an elderflower champagne but in all honesty, I prefer an elderflower wine, the elderflowers really do fill the palate even without the bubbles.
Elderflowers have a unique flavour all of their own in most cases you either like it or you don't. If you like something like an elderflower cordial or presse then this wine recipe really does showcase that distinct flavour and aroma.
Picking Elderflowers
As Elderflower bushes are so abundant around the UK finding and picking Elderflowers is your best option for making a wine.
One of the great benefits of elderflowers in the use of winemaking is the ease of harvesting. The flower heads grow in umbels so it is just a case of snipping the whole flower head at the base of the umbel. When harvesting the flowers I would recommend taking a few from each bush you encounter rather than taking all the flowers from each bush.
It should be noted that if you are picking your own Elderflowers that you are 100% certain you have correctly identified the plant as an elder bush. Once you spot a few bushes they are quite easy to identify using a field guide for confirmation.
When to Pick Elderflowers
Elderflowers will start appearing in early June so keep an eye out for them at this point. If they stay on the bush too long the flowers will start to go brown. You should be able to harvest some throughout June into July in most places in the UK.
When you go picking take a curved handled walking stick and you'll be able to hook down branches to get some of the florets that are higher up on the bush.
To make a gallon of this wine you will need roughly 24 elderflower heads which should take you no time at all to pick. Any more than this and the wine can become a little too pungent.
Using Dried Elderflowers
You can make this wine with dried elderflowers should you not be able to pick your own. As they are dried you will need to use a lot less, check the details of the recipe down below for exact quantities.
Preparing The Elderflowers
When you pick the Elderflowers, give them a gentle shake to dislodge any debris or bugs before putting them in an open container, if you seal the container or bag the flowers will sweat and turn brown.
You can wash the flower heads whilst they are intact and this is recommended, especially, if you picked the flowers next to a bust road.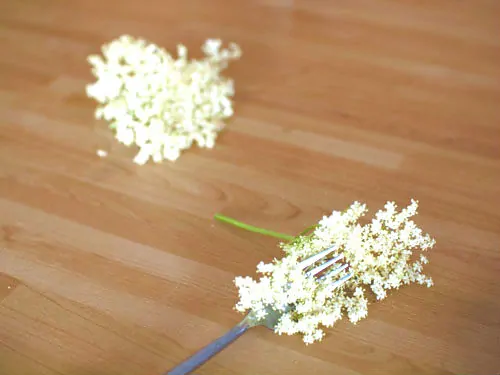 You will also need to strip the flowers from the stalks, they best way to accomplish this is once the flowers are picked and are dry grab a fork and comb the flowers from the stalks into a bowl. It's a fairly simple process and will result in a much better wine.
What You'll Need To Make Elderflower Wine – Makes 1 gallon / 4.5 litres
The equipment needed for this Elderflower wine recipe is fairly straightforward. You will need the following items, you can pick up any equipment you may need in our shop here.
Fermenting Bucket
Demijohn
Large Pan
Funnel
Syphon
Fine Straining Bag / Sieve
Airlock & Bung
Elderflower Wine Ingredients
24 Elderflower heads, flowers removed from stalks or 20g Dried Elderflowers
1.2kg of Sugar
4 litres of Water
1 Lemon
1 tsp Yeast Nutrient
1/4 tsp Wine Tannin
1 Sachet of Wine Yeast (Our recommendation is Lalvin 71B 1122)
Elderflower Wine Method
Remove the zest from the lemon taking care not to grate the white pith, add this to the sanitised fermenting bucket along with the Elderflowers.
Bring 4 litres of water to a boil and add the sugar to dissolve, pour over the flowers and the lemon zest. Allow to cool and add the Campden tablet, yeast nutrient, tannin and the juice of the lemon, mix and leave for 24 hours.
After 24 hours pitch the yeast into the fermenter, allow the wine to ferment for at least 6 days until activity starts to slow down.
After the initial burst of fermentation activity pass the wine through a sieve or straining bag into a sanitised demijohn. It is probably easiest to accomplish by placing a funnel in the demijohn with a sieve or straining bag in it.
Let the Elderflower wine complete fermentation and condition in the demijohn for at least a 2 – 3 months, racking off the sediment as and when needed. Check this guide for more information.
Once cleared you may wish to stabilise the wine before bottling, this Elderflower wine is best sampled after around 6 months but will last well for a year or two.
https://homebrewanswers.com/wp-content/uploads/2017/04/Elderflower-Wine.png
480
640
Neil
https://homebrewanswers.com/shop/wp-content/uploads/2016/09/home-brew-answers.png
Neil
2017-04-14 10:39:18
2017-06-13 18:42:23
Elderflower Wine Recipe - Light To Medium Bodied