A beer that isn't as popular as it should be are Strong Ales / Old Ales. Currently, so many beers are hop driven it's easy to forget just how much flavour and character big malt driven strong beers can provide. A quality I often try to achieve in any beer I brew is a balance, however, occasionally it's nice to go gung-ho, packing in flavour with most often hops. This beer goes the opposite way, packing in huge amounts of flavour driven by the malt used in the recipe.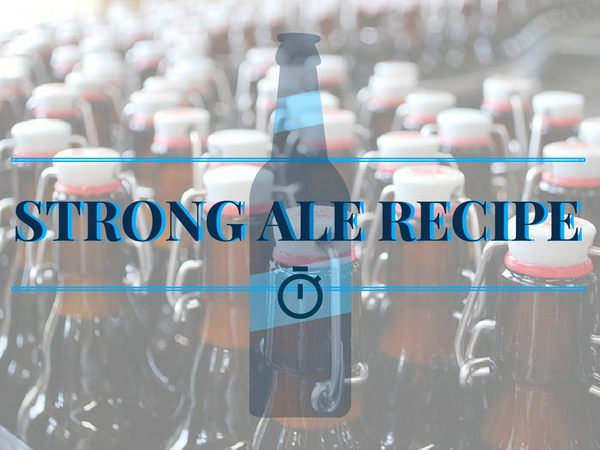 English strong ales aren't as popular among drinkers as paler, hoppier beers. When the weather gets colder however sometimes a heavy, warming and malty beer has no parallel. This is probably why these kinds of beers; old ales and strong ales are seasonal beers often called winter warmers.
Big Bold Strong Ales
Some particularly good examples of Strong Ales are made by Fullers. There is the Fullers 1845 and a beer in their Past Masters Series, XX. These beers, of course, are not marketed as "Winter Warmers" and rightly so. There is a huge complexity in the malt backbone of these beers and you find with the higher ABV you develop vinous and sherry notes that you don't find in other beer styles.
The colour of old ales or strong ales can vary, ranging from copper to deep mahogany, the strength is the main indicator of the style. Also as you can tell from the name these are beers you make and stash away in a cupboard. They are designed to be aged or cellared. What happens when you keep bottles stored away for months and years is different characters develop, the sherry like notes that can develop from oxidation amplifies the palate rather than degrades the beer. The beer rounds itself and becomes a different beer entirely compared to when you first brewed it.
This is why beer styles like Strong Ales are so exciting, the high ABV means it's a beer you only drink once in awhile. In the meantime, those bottles you have stored away are evolving and becoming something new to sample a few months or years down the line, a beer that improves with age rather than becoming dull or stale.
The flavours we want to build into our recipe all come predominantly from the malt. Strong Ales are complex, nutty and have treacle like flavours. The balance is on the sweet side so roasted grains should be added on sparingly and hop bitterness balanced.
The alcohol by volume is reflected in the name, it's a strong ale so in my opinion above 6% but below 8.5%. When the ABV goes to high the beer becomes more akin to a Barley Wine than a strong ale.
Aging Strong Ales
Aging is a whole element in itself to this beer style, adding complexity to an already complex beer. In most beers, oxidation is a bad thing. Oxidation is an off flavour caused by the reactions that take place when oxygen interacts with the compounds in the beer. This is why when you brew you are trying to keep the beer away from the atmosphere and disturb or splash it as little as possible.
It is impossible to prevent oxidation especially in beers that are aged for extended periods, you should always try to hone your brewing process to keep it to a minimum. In a Strong ale however or an old ale a small amount of oxidation is inevitable when the beer is kept for long periods. This small amount of oxidation adds a complex sherry or port-like note to the beer that compliments rather than spoils. It is definitely worth aging some bottles to see this for yourself.
The Strong Ale Recipe
This Strong Ale recipe is simple and clearly all about the malt used in the grist. I wanted to have hazelnut, toffee and dried fruit prominent in the flavour and a fairly strong ABV so the beer will age well.
Strong Ale - Old Ale
================================================================================
Batch Size: 19.0 L
Boil Size: 21.9 L
Boil Time: 60.000 min
Efficiency: 70%
OG: 1.072
FG: 1.018
ABV: 7.0%
Bitterness: 45.9 IBUs (Tinseth)
Color: 19 SRM (Morey)
Fermentables
================================================================================
Name  Type    Amount Mashed Late Yield Color
Pale Malt (2 Row) UK Grain  5.800 kg    Yes   No   78%   3 L
Chocolate Malt (UK) Grain 120.000 g    Yes   No   73% 450 L
Biscuit Malt Grain 300.000 g    Yes   No   79%  23 L
Caramel/Crystal Malt - 60L Grain 300.000 g    Yes   No   74%  60 L
Total grain: 6.520 kg
Hops
================================================================================
Name Alpha   Amount  Use       Time Form  IBU
Kent Goldings  5.5% 20.000 g Boil 10.000 min Leaf  3.6
Challenger  7.0% 20.000 g Boil 10.000 min Leaf  4.6
Target 10.5% 40.000 g Boil 60.000 min Leaf 37.7
Yeast
================================================================================
Name Type Form   Amount   Stage
Safale S-04  Ale  Dry 11.000 g Primary
Mash
================================================================================
Name     Type   Amount     Temp   Target       Time
Infusion 17.000 L 73.714 C 67.000 C    0.000 s
Final Batch Sparge Infusion 12.000 L 87.395 C 74.000 C 15.000 min

https://homebrewanswers.com/wp-content/uploads/2016/10/STRONG-ALE-RECIPE.jpg
450
600
Neil
https://homebrewanswers.com/shop/wp-content/uploads/2016/09/home-brew-answers.png
Neil
2016-10-31 14:24:15
2017-02-12 12:23:32
Strong Ale / Old Ale Recipe - Brew It, Drink It & Age It